Weekend Leadership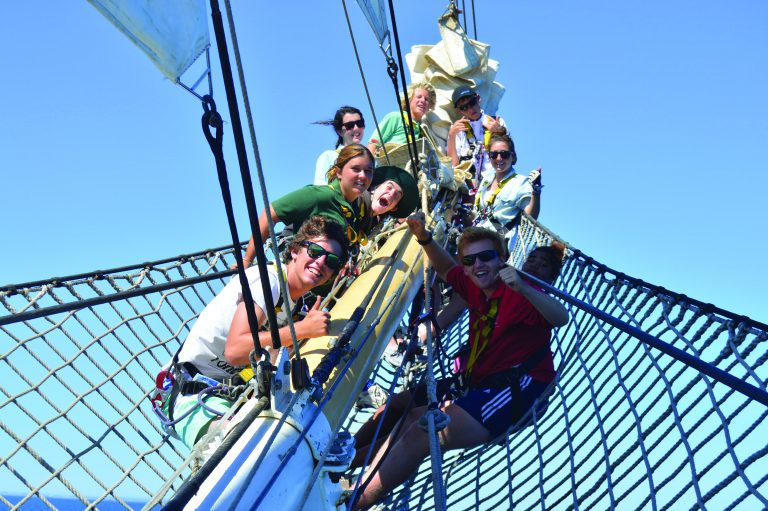 Weekend Leadership voyages are about getting a taste of life at sea
Leeuwin Ocean Adventure's Weekend Leadership voyages aim to provide a short, power-packed experience for students in a unique environment, at sea on the magnificent STS Leeuwin II – Australia's largest sail training tall ship.
Before coming on board, we'll ask all participants to think about what they hope to achieve from the experience.
Joining the ship, participants will be allocated to their watches (teams), introduced to safety on-board, have an opportunity to don their harnesses and explore the rigging. Then we'll head off to anchor for the night. A workshop after dinner will get participants thinking more about what they want to achieve during their weekend at sea.
Overnight, participants will take part in night watch – 1-2 hourly rotations during which they have a range of tasks to check lines, bilges etc. Up nice and early for deck exercises and a safety refresh, it's time for some physical work.
Once we weigh anchor, the day will be full-on! Working in their teams, participants will be hands on with a range of activities including setting and furling sails, tacking and wearing ship, helming (steering the ship), team sports on deck, problem-solving exercises. Depending on weather and sea conditions, the Captain will make a decision to stay at sea or anchor overnight. Either way, all participants will be involved in watch rotations throughout the night before another day of activities. The ship will return to Fremantle Port on Sunday.
Before disembarking, students will be asked to work together to discuss what they learnt about themselves and about others from being on board. What did they learn about leadership and learning?
Students will experience challenge and achievement. They will be physically tired and emotionally charged.
Don't forget – the Weekend Leadership voyage meets the requirements of the Duke of Edinburgh's International Bronze Award – Adventurous Journey.
We're looking forward to delivering this short voyage in 2020 and 2021.
2020 Voyage details
Voyage: 2020 Weekend Leadership
When: 11 – 13 December 2020
Departing: Fremantle
Fare: $500 per person