Voyage FAQ
Live tracking
This is where STS Leeuwin II is right now:
Play with the zoom (scroll on your mouse) to see the position 
in relation to the closest coast (if any!). Note that this is a 3rd party software
and we cannot warrant accuracy and timeliness of data.
WHAT TO EXPECT ON YOUR VOYAGE
How will your days on board be filled?
Working together in teams (or watches as they are known on board ship) you will learn the language of tall ship sailing and become a master of ropes and lines, knots and sails.
You will be:
taking the helm
setting and furling sails
climbing the masts and working aloft
meeting new people and building new friendships
doing things you never imagined you could do
eating great food!
Weather and wind conditions, the watch roster and ship positioning affects the schedule so there is never a dull moment!
ABOUT THE SHIP
We invite you to read and learn about STS Leeuwin II's history and specifications here.
ABOUT THE CREW
On each voyage, the ship accommodates up to 40 participants and 15 crew members (five professional crew and ten volunteers). The permanent crew consists of the Captain, First Mate, Bosun, Engineer and Chef.
Leeuwin's permanent and relief crew have extensive maritime experience and are highly qualified professional mariners. The permanent crew are assisted by trained volunteers who fill the positions of Watch Leaders, Cook's Mate, Bosun's Mate, Purser and on occasions Engineer's Mate and Watch Officer. Our volunteers have generally joined us on a first voyage and then return  to continue their learning and development and because they want to assist new voyage participants get the most from their first voyage experience.
Find out about STS Leeuwin II crew here.
ABOUT YOUR VOYAGE
WATCH ORGANISATION
While on board STS Leeuwin II, you will be allocated to a Watch. Your Watch Leader will be someone who has sailed on Leeuwin and volunteers their time to make sure you have the absolute best adventure. They will lead activities and your involvement in ship duties throughout the voyage. When you are on Duty Watch, the members of your Watch will take turns as lookout, helmsperson and navigator.
The STS Leeuwin II operates 24 hours a day. At all times of the day and night, a Watch group is on duty.
ACCOMMODATION
You will share a cabin with either five or seven other people, divided by gender.
There are two communal bathrooms, also divided by gender.
The Main Saloon is where you come together with your Watch and other voyage participants for meals, to play board games or maybe pick up the guitar. It is beautifully lined with jarrah and has a comprehensive library. You will feel like you are in another world, in times past!
CAN MY FAMILY OR FRIENDS GET IN TOUCH WITH ME WHILE I'M AT SEA?
No, sorry they can't. You are under the care of the Captain and crew.
In case of emergency, your emergency shore contact will be advised immediately.
CAN MY FAMILY AND FRIENDS TRACK STS LEEUWIN II WHILE I'M AT SEA?
Yes! By bookmarking this page or link.
JOINING YOUR VOYAGE
PACKING LIST
It's important to prepare carefully for your journey. There's nowhere to stop, and shop!
And remember – it's a lot colder at sea than on land – even in the middle of summer.
Comfortable clothing is a must
Warm clothing is a must
Space is limited so please only bring a soft bag (no suitcases)
The ship provides wet weather clothing (all sizes), safety harnesses, a mattress and pillow
Avoid excessively tight or baggy clothing which may be restrictive during activities such as climbing aloft. Your clothes may get dirty, so bring older clothes
The reflection from the water, the deck and the exposure to the wind can result in sunburn: protect yourself! We recommend long sleeve cotton shirts
Sunscreen is provided on-board
THE ESSENTIALS
This is what we think you will need for a seven-day voyage – you can adjust your packing list for shorter voyages.
A selection of clothing for warm days and cool nights
2-3 shirts (you are wearing a harness, so a collar helps)
2 jumpers or more
2 pairs loose fitting long pants
2 pairs shorts – no short shorts
          Please note, in accordance with Leeuwin Ocean Adventure's dress code, tight or short-shorts, "active-wear", skirts and dresses are not permitted to be worn on board STS Leeuwin II.
2 pairs of enclosed shoes – 1 pair suitable for getting wet (no sandals/thongs)
Thermals (if you have them)
Underwear
A small towel
Toiletries (roll on deodorant only please)
A hat with a strap or tight cap
Lip balm
Sunglasses and strap
Water bottle
Personal mug, ideally with a handle so it can be hung in our Main Saloon
Sleeping bag
Pillowcase
Single bed flat sheet
If you have your own wet weather gear or waterproof clothing, don't hesitate to pack it (this is not a necessity however Leeuwin's gear has been well loved over the years!)
A set of thermals for night time (available from department stores from $10)
Beanie or bobble hat
Most of all – pack your sense of adventure and a willingness to get involved and do things you've never done before. Bring an open mind to the opportunities you'll be offered and a can-do attitude. The more you put in – the more you will gain from your fantastic adventure on STS Leeuwin II.
OPTIONAL
A note pad and pen
Some money to purchase merchandise on board (or before boarding), including hats and gloves
A camera which can and must be secured when aloft, such as a GoPro
Visit the Leeuwin store by clicking the logo below if you want to purchase our merchandising:

WHAT SHOULD I LEAVE AT HOME?
STS Leeuwin is a phone-free zone
Mobile phones, laptops—any electronic devices. If you do bring your devices with you, you must hand them into the Chief Officer on Day 1 of the voyage. They will be stored securely and returned to you prior to your departure.
SLR cameras or any camera which can't be secured, and may become a hazard when you climb aloft.
We take hundreds of photos throughout the voyage, and will offer you the option to purchase a unique branded Leeuwin USB full of photos ($20).
WHAT'S NOT ON WHILE ON BOARD?
On your voyage, we do not tolerate:
offensive behaviour which includes unwelcome comments, jokes and/or actions
offensive language
violence either physical or verbal
material of an explicit or obscene nature
alcohol, illegal drugs or cigarettes
WHERE SHOULD I PARK OR BE DROPPED OFF?
If your voyage is departing from or arriving into STS Leeuwin II's home port of Fremantle:
Long-term parking is available at B-Berth and more generally at Victoria Quay:
Zone 3 dedicated all-day parking areas near C and D Sheds costs $10 a day (plus 0.8% surcharge for credit/debit cards).
4 hours parking outside A and B Sheds (tip: for this option, select 3 hour parking, then add an additional 1 hour (far right button on machine)).
If your voyage is departing from or arriving into ports other then Fremantle, please check local parking arrangements or specific instructions provided by Leeuwin Ocean Adventure.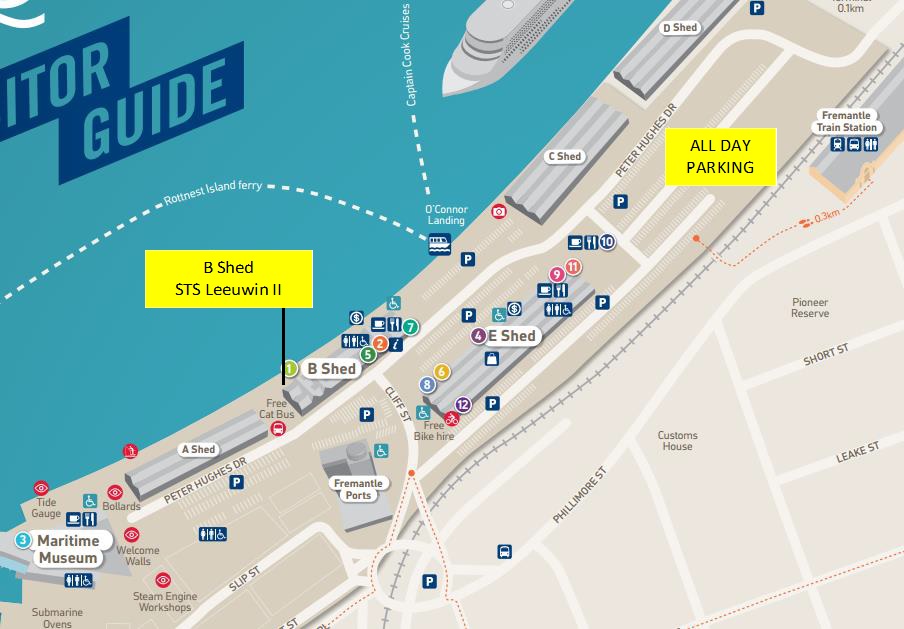 WHAT TIME DOES BOARDING START?
For voyages departing from Fremantle, final boarding time is 10 am. Please check your joining information carefully – some voyages do have a different boarding time.
You need to be at Leeuwin's office at B-Shed no later than 15 minutes before the scheduled boarding time.
Arrival time for voyages returning to Fremantle is generally around 11:30 am, depending on shipping movements. Please check your joining information carefully – some voyages do have a different arrival time.
Voyage participants will stay on-board for at least 30 minutes after the ship berths.
For regional voyages, the arrival time, departure times and locations will be provided to you as part of your joining information.
DO YOU OFFER TRANSPORT TO REGIONAL PORTS?
Bus transportation to regional ports might be offered as an option, with prices varying upon destination. This information will be provided to you as part of our booking process.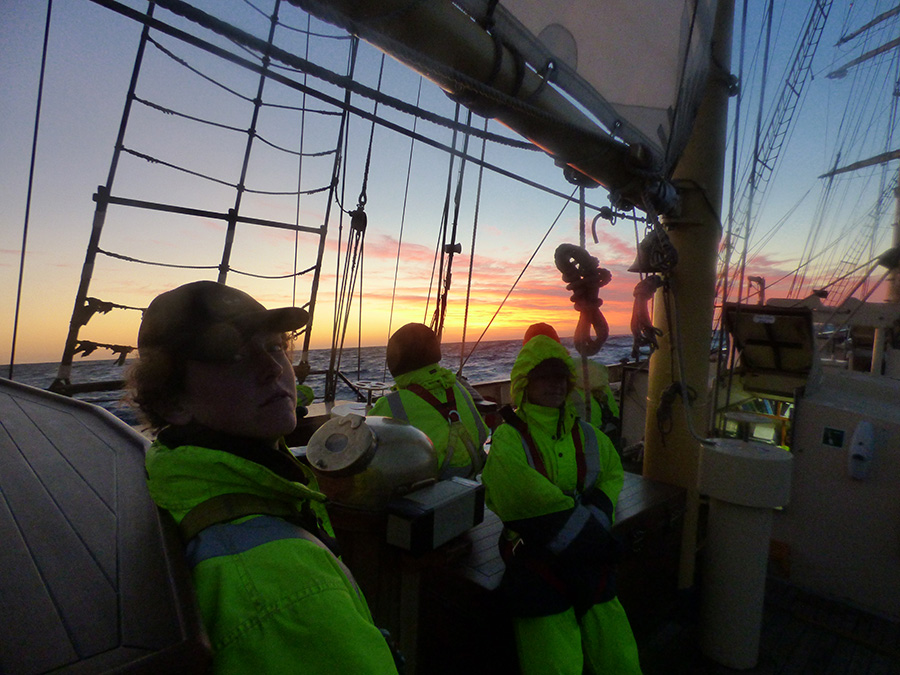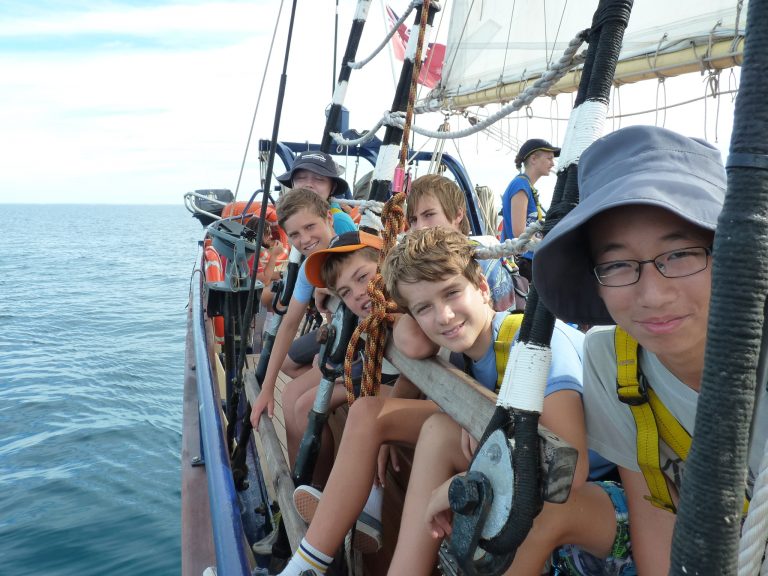 COVID-19 Health and Safety
Leeuwin Ocean Adventure Foundation has developed an extensive COVID-19 Risk Management Plan to ensure health and safety standards are maintained on board. Some of the precautions we are taking include:
Boarding protocols: To keep you and your fellow shipmates in good health for the voyage, please do not present for boarding if you have any of the following cold or flu-like symptoms:
Fever | Dry Cough | Shortness of Breath | Sore or Scratchy Throat | Runny Nose | Muscle Aches | Chills or Night Sweats
You are requested to stay at home as you will be unable to board the vessel – and you may be precluded from any public transport (bus or plan) to get home.
Please note: in the event you are unwell, your booking will be honoured for an alternative voyage.
Social distancing isn't always easy on STS Leeuwin II – so please play your part in maintaining a clean, healthy and happy ship by ensuring good personal hygiene and following the crew's directions at all times.
On-board: Trainees will be required to bring their own hand sanitiser bottle (larger bottles will be available on board for refilling), face-masks and their own mug for use throughout the voyage.