Ultimate Challenge
WHEN: 11 Feb - 15 Feb 2019
DEPARTS: Fremantle
ARRIVAL: Fremantle
FARE: $1,500
Leeuwin is proud to be the only tall ship in Western Australia to offer an ocean adventure voyage specifically for people with disability.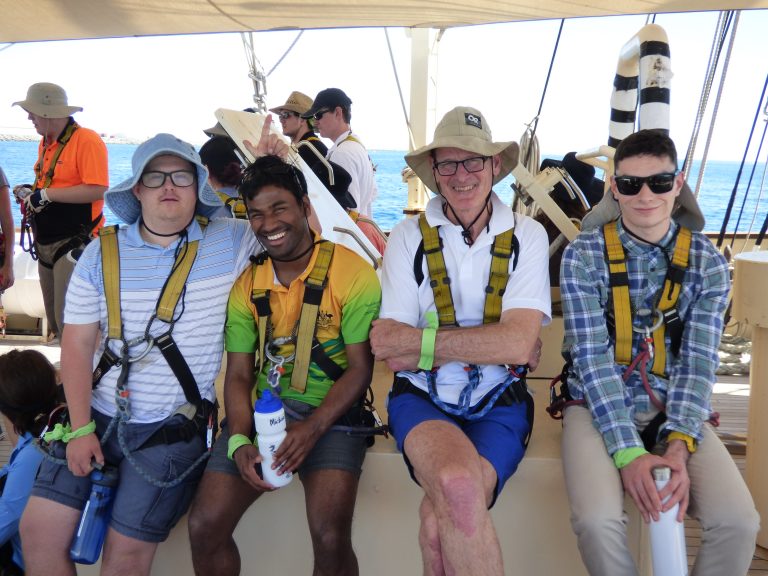 During their 5-days at sea, voyage participants experience the thrill of tall ship sailing. In a safe and supportive environment participants meet new friends, learn new skills and increase their self-confidence.
40 participants are on board to run the ship along with our 5 permanent crew and 10 volunteers. 24 people with physical, intellectual and/or sensory limitations join 16 participants who sail alongside, getting involved in all aspects of tall-ship sailing. All participants work in a team with support and assistance when required to ensure everyone on board gets the absolute most from this unique and extraordinary voyage experience.
This voyage is open to participants of all ages.
Support Participant Application Form
Applications for 2019 Ultimate Challenge close Sunday 25 November, 2018.
Ultimate Challenge Partners
Leeuwin Ocean Adventure recognises the following disability services agencies who support access for people with a disability on Leeuwin Ocean Adventure's Ultimate Challenge Voyage.
Each agency has committed to find a person with a disability from within their network. This person will have shown a willingness and desire to try new things; a person who wants to continue to improve their skills; a person whose commitment to themselves and others can be rewarded by a great experience.
Each agency has also committed funding towards support participants, enabling and encouraging involvement of the broader community in this voyage experience.
Thank you to all our voyage partners – they each contribute to making a world of difference, enriching a person with disability's life experience.
Voyage Schedule
2019 Voyages
FROM OUR PREVIOUS ADVENTURERS!
"Meeting people who also face challenges in life was great and made me appreciate what I have been given. I can not put into words how much the Ultimate Challenge meant to me."
CIARA, DIABETES WA, PARTICIPANT 2016
"It's a week of the best therapy ever, and our clients don't even know it! They get physio (balance, strength and coordination skills), OT (they work on their independence in all their ADL's) and speech (improved social skills and for those with devices and KWS – they get to teach others how to communicate with them!)."
EMILY BROUGH, PHYSIOTHERAPIST AT ROCKY BAY.