Ultimate Challenge
WHEN: 2-6 February 2021
DEPARTS: Fremantle
ARRIVAL: Fremantle
FARE: $1,550
Sailing for all
Leeuwin Ocean Adventure delivers Australia's only tall ship personal development program for people with a disability, through its Ultimate Challenge Voyage annual series.
For thirty years, Leeuwin Ocean Adventure has participated in the promotion and advancement of human rights and freedoms for young Western Australians. Through the unique setting of a voyage on-board STS Leeuwin II, young people with an intellectual, physical or sensory challenge are offered a life-building adventure which is a powerful source of cognitive and emotional stimulation, challenge and accomplishment. Outdoor Adventure Education makes a difference to young lives whatever their capability. It can help to get them into experiences beyond the status quo, encouraging them into new behaviours strengthening their self-esteem, self-confidence, and self-efficacy.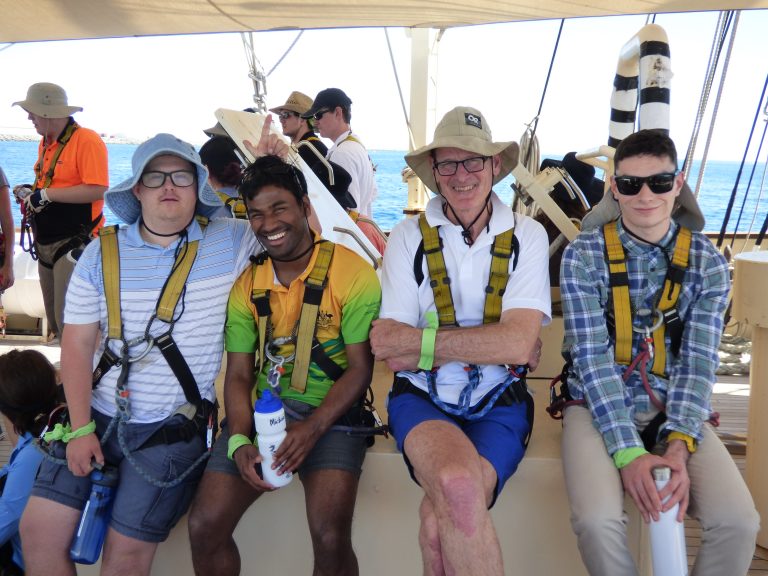 On board STS Leeuwin II for an Ultimate Challenge Voyage:
24 people with intellectual, physical or sensory challenges
16 participants learning to sail a tall ship who are willing to assist in making sure everyone on board achieves their potential
10 volunteers assisting with the smooth running of the voyage
5 permanent crew
All participants work as a team within their watch. Our experienced crew and volunteers collaborate with participants to be independent and involved as trainee crew members.
This voyage is open to participants over 14 years of age.
Download Voyage Participant Application Form
Sailing on the Ultimate Challenge Voyage
As one of the support voyage trainees, there are many benefits to joining the Ultimate Challenge voyage on-board STS Leeuwin II.
If you work for a service provider supporting people living with a disability or if you are studying in this area, the Ultimate Challenge voyage offers additional benefits to do with the unique setting of a voyage. The experience can lead to expanded opportunities and growth, with new job ready skills and networks.
Or perhaps you are just interested in giving your time to join this unique voyage opportunity on board Australia's largest sail training ship, helping build the lives and futures of others. Hint: it will go a long way to changing your life too!
Leeuwin Ocean Adventure works hard to secure funding towards this voyage and with its Ultimate Challenge voyage partners, we are able to off this voyage to you at a sponsored rate. Contact us to find out the sponsored fare – [email protected].
Download Support Participant Application Form
Ultimate Challenge Partners
Leeuwin Ocean Adventure recognises the following disability services agencies who support access for people with a disability on Leeuwin Ocean Adventure's Ultimate Challenge Voyage.
Each agency has committed to fund a person with disability from within their network. This person will have shown a willingness and desire to try new things, to improve their skills and to commit to themselves and others.
Each agency has also committed funding towards support participants, enabling and encouraging involvement of the broader community in this unique and powerful voyage experience.
Applying tips
All voyages require you to complete a form. We will assess it, before confirming that you can join the voyage of your choice.
To facilitate the processing of your application, here are few important tips:
Forms are in PDF format and can be filled and send to us without printing them, using the free Acrobat Reader app: download it here.
Make sure to download the application form on your desktop, and open it using the free Acrobat Reader, before filling it in. Viewing the form in your browser won't allow you to sign it off and submit!
Don't take and email a photo of your application OR take the risk that it gets blocked as spam!
Rename your application file adding your name (Example: Application 2019 – Jenny Smith) and save.
Write your name in the subject line of your email when sending your application.
Expect a response from us within 2 weeks. If you don't, please contact us.
Voyage Schedule
Ultimate Challenge 2021
FROM OUR PREVIOUS ADVENTURERS!
I have also made some amazing friends and met some interesting people like Noah who has the energy of 16 people; and Ryan who is completely blind but sees better than me!
Emily, 2018
It's a week of the best therapy ever, and our clients don't even know it! They get physio (balance, strength and coordination skills), OT (they work on their independence in all their ADL's) and speech (improved social skills and for those with devices and KWS – they get to teach others how to communicate with them!).
EMILY BROUGH, PHYSIOTHERAPIST AT ROCKY BAY.