Volunteer
More than 350 volunteers help STS Leeuwin II to operate. Many are former participants who want to further develop their skills on-board. Others have gained the confidence to lead new groups. Other roles could include ship keeping and maintenance or office duties. This unique cohort has many faces, but all share the same enthusiasm for sailing, tall ship, mateship, Fremantle, being active and having fun.
What really impressed me was the attitudes and character of the volunteer teenagers and young adults that were the volunteer sailors. They all had great people skills, were physically strong and healthy, and of good character forged from committing themselves to challenges that are bigger than themselves. —Richard M, TripAdvisor
Top reasons to volunteer
There are many benefits to volunteering, including:
Broaden your social life
Explore a new career
Learn new skills
Stay physically and mentally active
Discover your passion
Make a difference, put something back into your community
Gain experience, contacts and references
Arriving from their first voyages, and inspired by their experience, participants often inquire about becoming a volunteer at the Leeuwin. Because Leeuwin Voyages are endorsed by the School Curriculum and Standards Authority (SCSA) of WA, joining as a volunteer can provide significant benefits to high school and university students.
School students in year 10 to 12, you may also:
Talk to the Education Manager at Leeuwin to discuss the opportunities.
University students, you may also:
Volunteers are members
As a volunteer, you will be required to join as a member in order to cover your insurance and ensure appropriate inductions are carried through. There are various type of membership:
Free membership
To paid participants, we will offer you a 12 month free membership* starting once you completed your voyage. Joining will allow you to volunteer and gained all the benefits listed above.
Once your free membership lapses, and if you wish to continue to volunteering, you will be asked to join as a paid member with all the associated benefits.
*Applicable to 5 and 7 days voyages.
Paid membership
Paid membership offers different options to join, and may include many benefits, such as:
2 free tall ship sail tickets during the period of your membership
10% off a voyage for guests (family or friends)
Invitation to member event
Subscription to a unique Leeuwin Lines for volunteers
Special member offers
And more…
Volunteer Internships
With thanks to the State Government through the Department of Communities, we welcomed current and prospective volunteers to apply for one (1) of ten Leeuwin Volunteer Internships.
This is an opportunity for you to commit to a volunteering role with the Leeuwin through participation in a series of programs and workshops.
How does it work?
The program offers ten Volunteer Internships to individuals aged 17+ who have either:
Already participated and successfully completed a voyage, irrespective of whether they achieved a rating;
Never sailed on the STS Leeuwin II before, but have an interest in developing their volunteering skills through a year-long committed program.
What it involves?
The volunteer internship for 2018 involves:
Join our 7-day Youth Explorer Voyage (8 – 14 March 2018)
Participate in our Leadership workshop (April 2018)
Enjoy the Facilitation workshop (June 2018)
Come along to help in Refit (30 hours from July to September 2018)
Participate in 'What Being a Volunteer Means' workshop (legal responsibilities, duty of care) (October 2018)
Experience a further 7-day Leeuwin Ocean Adventure Voyage (October / November / December 2018) as a volunteer / supernumerary
Join our team to volunteer on at least 4 day sails (December 2018 / January 2019)
Complete a final assessment and review workshop (February 2019)
Note: Interns will be provided with a certificate of successful completion.
What are the criteria?
Age 17 or over when you begin
Ready to join the 8 – 14 March voyage
Willing commit to the twelve-month program (agreement to repay the cost of the voyage program if withdraw prior to end of volunteering responsibilities)
Ready to invest in your future
Principles of Volunteering
Volunteering implies a shared understanding of definitions and respect of principles:
Commitment of time and energy for the benefit of the society and the community, the environment or individuals outside one's immediate family;
Benefits the community as much as volunteers themselves;
Work is unpaid;
Actively participate in activities in their communities.
2018 Leeuwin interns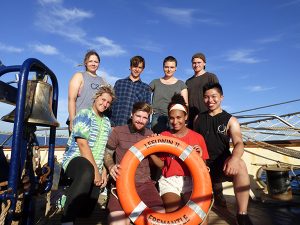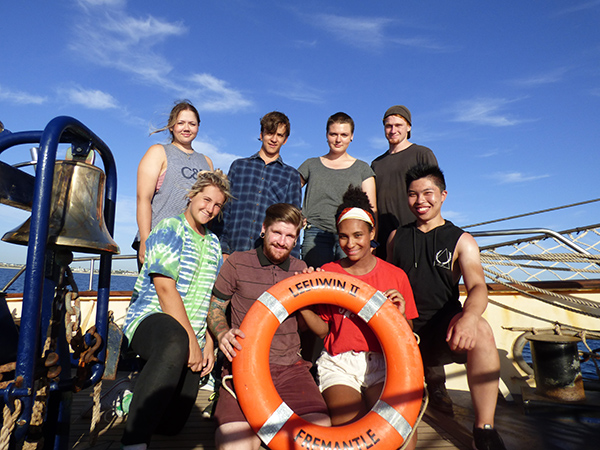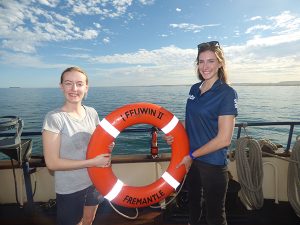 2018 Leeuwin volunteers interns: Nathan Xie (20, Maylands), Rykiel Gibb (17, Wagin), Francis Raven (23, Nollamarra), Descia Bailey (18, Serpentine), Ronan Maycock-Hansen (17, Roleystone), Jordie Martin (20, Duncraig), Natalie Wheble (17, Leeming), Austin Faulkner-Pearce (20, Porongurup), Hope Kleinfelder (20, Coolbinia) and Isabelle Lindsay (19, Waterford).
Thank you!