Volunteer
Our unique group of more than 350 volunteers, consists of former participants that wish to continue their skills development and guide the next group of youth through the program, assist with ship keeping, office duties or ship maintenance. The program cannot exist without the enthusiastic and dedicated support of our volunteers and we are proud to call them our own.
"What really impressed me was the attitudes and character of the volunteer teenagers and young adults that were the volunteer sailors. They all had great people skills, were physically strong and healthy, and of good character forged from committing themselves to challenges that are bigger than themselves." – Richard M, TripAdvisor
Volunteer Membership
Every participant that completes a week-long voyage receives a free year of membership. The below annual benefits apply:
2 x tall ship sail tickets
10% off a voyage – for family or friends
Special member offers
Invitation to member event
Subscription to Leeuwin Lines
Ship Tours – for family and friends (on request, bookings needed)
If after the year you wish to continue your membership, a $50 membership fee applies.
Volunteer Internships
With thanks to the State Government through the Department of Communities, we welcomed current and prospective volunteers to apply for one of ten Leeuwin Volunteer Internships.
This is an opportunity for you to commit to a volunteering role with the Leeuwin through participation in a series of programs and workshops.
How does it work?
The program offers ten Volunteer Internships.
The program is available to individuals who have either:
already participated and successfully completed a voyage, irrespective of whether they achieved a rating
not sailed on the STS Leeuwin II before but who have an interest in developing their volunteering skills through a year-long committed program
What it involves – 2018
Join our 7-day Youth Explorer Voyage (8 – 14 March 2018)
Participate in our Leadership workshop (April 2018)
Enjoy the Facilitation workshop (June 2018)
Come along to help in Refit (30 hours from July to September 2018)
Participate in 'What Being a Volunteer Means' workshop (legal responsibilities, duty of care) (October 2018)
Experience a further 7-day Leeuwin Ocean Adventure Voyage (October / November / December 2018) as a volunteer / supernumerary
Join our team to volunteer on at least 4 daysails (December 2018 / January 2019)
Complete a final assessment and review workshop (February 2019)
Note: Interns will be provided with a certificate of successful completion.
Criteria
Age 17 or over when you begin
Ready to join the 8 – 14 March voyage
Willing commit to the twelve-month program (agreement to repay the cost of the voyage program if withdraw prior to end of volunteering responsibilities)
Ready to invest in your future
Principles of Volunteering
You must understand and commit to the definition and principles of volunteering:
Volunteering is the commitment of time and energy for the benefit of society and the community, the environment or individuals outside one's immediate family.
Volunteering benefits the community and the volunteer
Volunteer work is unpaid
Volunteering is always a matter of choice
Volunteering is a legitimate way in which citizens can participate in the activities of their community
Volunteering is a vehicle for individuals or groups to address human, environmental and social needs
Express your interest for 2019
2018 Interns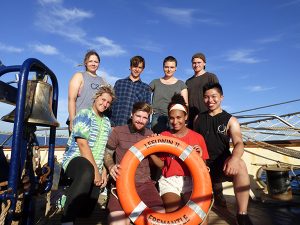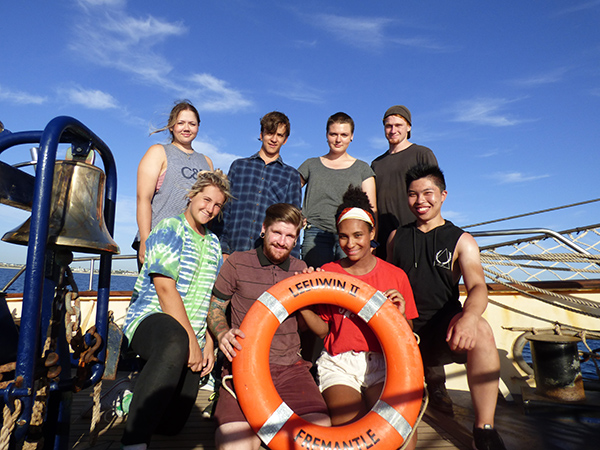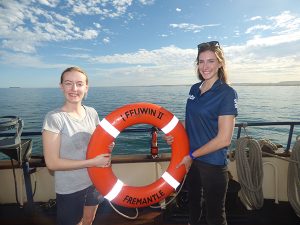 Nathan Xie (20, Maylands), Rykiel Gibb (17, Wagin), Francis Raven (23, Nollamarra), Descia Bailey (18, Serpentine), Ronan Maycock-Hansen (17, Roleystone), Jordie Martin (20, Duncraig), Natalie Wheble (17, Leeming), Austin Faulkner-Pearce (20, Porongurup), Hope Kleinfelder (20, Coolbinia) and Isabelle Lindsay (19, Waterford) were announced as the volunteer interns for 2018.