About Us
WE PROVIDE THE EDGE
The STS Leeuwin II is Western Australia's very own tall ship, a unique three-masted 1850's style barquentine. A Youth Explorer Voyage onboard will lift a student to the next level and ensure they are given the edge to enter the workplace with the best opportunities available to them.
Our primary program is our Youth Explorer Voyages. A week-long opportunity for participants to sharpen their work-ready skills and enhance skills in communication, leadership and collaboration.
In addition to our Youth Development program, we run a range of specialised voyages and 3-hour sails.
FOUNDATION FUNDING
The Leeuwin Foundation is a trusted not-for-profit organisation based in Fremantle. Since 1986 we have welcomed more than 40,000 young people onboard the STS Leeuwin II.
The Leeuwin Foundation is funded through a combination of grants, corporate sponsorships and donations by organisations and the general public.
In 2016 we celebrated our 30th anniversary.
THE SHIP
STS Leeuwin II is a three-masted sail training ship designed in an 1850's barquentine style. The ship was launched in 1986.
It is 55 metres long and 33 metres tall. It has 16 sails with a total of 810m2 of canvas.
"This ship will bond you to her for life" – Roger Hales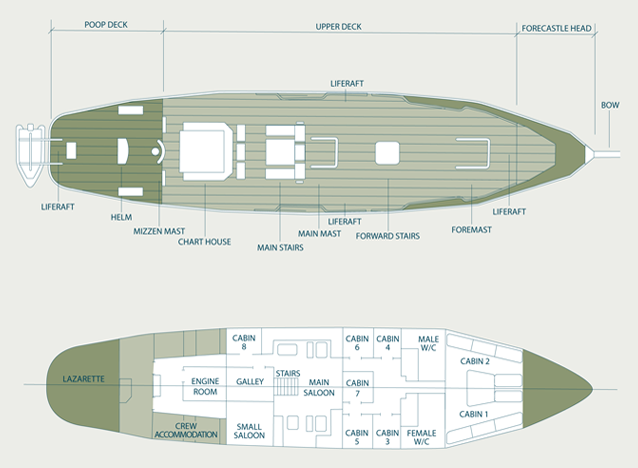 Sail Training Tall Ship Leeuwin II
Specification: Three masted barquentine, 1850's style rig
Launched: 2 August 1986
Construction: Steel hull, teak deck
Length overall: 55 metres
Length on deck: 40 metres
Beam: 9 metres
Draught depth: 3.4 metres
Height of the main mast: 33 metres
Displacement: 344 tonnes
Sails: 16 sails, over 810 square metres of fabric
Accommodation: 15 crew and 40 trainees
Designer: Len Randell A.R.I.N.A
Builder: Transfield (ASI) Pty Ltd, Henderson WA
Survey: 1B, 1D
Safety System: Australian Maritime Safety Authority ISM Certification
OUR HISTORY
WHAT'S IN A NAME?
The original Leeuwin (Dutch for "Lioness") Galleon was a Dutch ship that discovered and mapped some of the southwest corner of Australia in March 1622, only the seventh European ship to sight the continent.
The Leeuwin Galleon's logbook has never been recovered, so unfortunately very little is known about the voyage, including the name of the Captain. Interestingly, Dutch East India Company letters indicate that the Leeuwin's voyage from Texel in the Netherlands to Batavia (now Jakarta) took more than a year, whereas other vessels made the same voyage in less than four months. This suggests that poor navigation may have been responsible for the Leeuwin's appearance at Australia's coast.
The south-west corner of Australia has historically been referred to by the Dutch as't Landt van de Leeuwin ("The Land of the Lioness") which was later shortened to "Leeuwin's Land" by the English. In addition to STS Leeuwin II, the name Leeuwin still survives in the name of Cape Leeuwin, the most south-westerly point of the Australian mainland, so named by Matthew Flinders in December 1801.
AWARDS AND RECOGNITION
The Leeuwin Ocean Adventure Foundation has received acknowledgment by many local, national and international awards throughout its many years of operation.
Sail Trainer of the Year: Under 25 Volunteer Category | 2016 | Winner Rachel Norrie
WA Industry Collaboration Award WA Training Awards | 2016 | Finalist
Corporate Social Responsibility Award Fremantle Chamber Business Awards | 2015 | Winner
Billy Can Award Australian Sail Training Association | 2014 | Winner
Gold Medallion Bravery Award Royal Lifesaving WA Bravery Awards | 2014 | Winner
Outstanding Personal Achievement Award Fremantle Chamber Business Awards | 2014 | Winner – Captain Sarah Robinson
Corporate Social Responsibility Award Fremantle Chamber Business Awards | 2014 | Finalist
Supporting Volunteers Award Department of Sport and Recreation Awards | 2014 | Finalist
Orange Seed Project Grant Award Jack in the Box and Seven West's Orange Seed Project | 2014 | Finalist
Corporate Social Responsibility Award Fremantle Chamber Business Awards | 2013 | Winner
International Sail Trainer of the Year Sail Training International | 2013 | Winner – Captain Sarah Robinson
Fair Go Award Pride of Australia Awards | 2013 | Winner – Captain Sarah Robinson
International Sail Training Organisation of the Year Sail Training International | 2010 | Winner