Day Sail FAQ
Where should I park?
Long-term parking are available around STS Leeuwin II berth and at Victoria Quay:
Zone 3 dedicated all-day parking areas near C and D Sheds costs $10 a day (plus 0.8% surcharge for credit/debit cards).
4 hours parking outside A and B Shed (TIP: for this option, select 3 hour parking, then add an additional 1 hour — far right button on machine).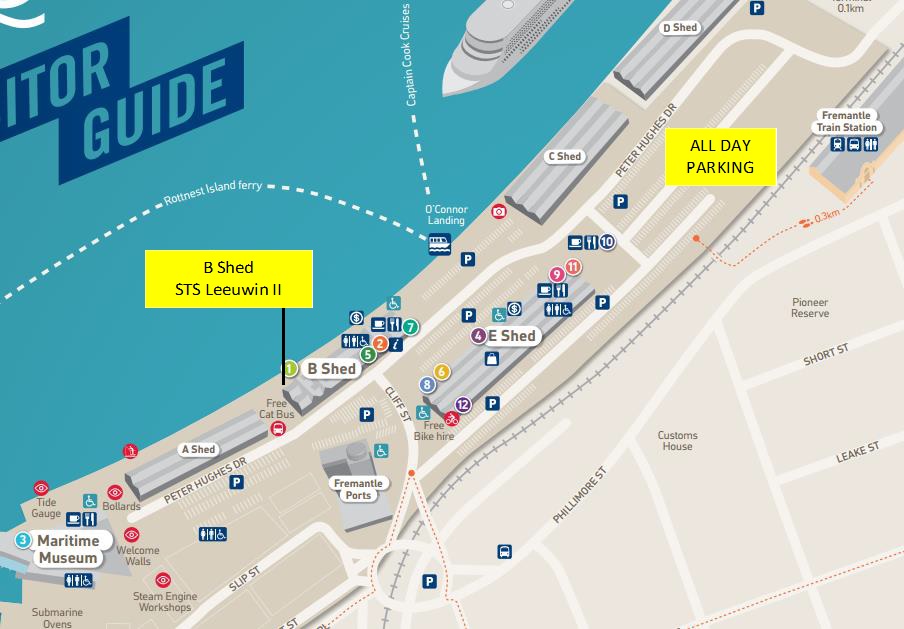 What should I bring?
All Day Sail passengers must wear enclosed shoes!
We recommend to bring a wind-proof jacket and a hat. We provide sunscreen on-board the vessel.
Is there any food?
The Leeuwin Chef will prepare a range of light snacks throughout the sail. Tea, coffee and water will be available in the galley. If weather permits, food and refreshment might be offered on deck; or you will be invited to head to the main saloon to eat and drink.
No alcohol is permitted on board.
What should I expect to do?
STS Leeuwin II is run by permanent crew members, as well as volunteers. There is no expectation that you participate with sailing operations. You can sit on deck if you wish, and absorb the unique atmosphere sailing on-board a tall-ship. A tour of the ship is offered for those interested.
However, if you wish to get involved and experience the life on-board a working ship, there will be opportunities to join in activities such as hauling the lines, taking the helm or climbing the bowsprit.
Where do we go?
The Captain will head out of the harbour and pick the best direction for sailing due to wind and weather conditions.
Will I get seasick?
Navigating a ship like STS Leeuwin II may create some discomfort to some passengers on-board, such as seasickness. But if you are prone to motion sickness, non-drowsy seasickness tablets are widely available at your local chemist. Don't let this stop you!
Are there bathroom facilities on-board?
Yes. The ship offers separate accommodations for males and females.
Prior to departure, the B Shed Café also offers public bathroom facilities.
How many people can fit on a 3-hour sail?
STS Leeuwin II can accommodate up to 130 passengers on a 3-hour sail.