Woodside and Leeuwin kick-start maritime careers for WA youth
Woodside Energy and Leeuwin Ocean Adventure provide young people from across Western Australia the opportunity for personal and professional growth through a well-established Marine Career Pathway Sponsorship program.
This year alone, Woodside Energy has provided 48 young people with the chance to experience a life-changing week at sea on a Leeuwin Ocean Adventure voyage.
Leeuwin Ocean Adventure's Chief Executive Officer, Carol Shannon, said that a Youth Explorer Voyage is unlike any other learning experience in Western Australia. Alongside the intrinsic rewards of being part of a sail-training adventure, Leeuwin Ocean Adventure voyages offer students a range of different education pathways, including marine career pathways.
"Woodside Energy has been a proud supporter of Leeuwin Ocean Adventure since 2005, providing young people with marine or maritime career interests with opportunities for personal growth through Leeuwin's programs. Because of Woodside's support, we are able to offer almost 100 young Western Australians each year part-sponsorship to join a Youth Explorer Voyage," she said.
In 2015, Woodside's support evolved further to include sponsorship of a maritime cadetship program, awarded to three Leeuwin Ocean Adventure volunteer crew members who have a genuine aspiration for a career at sea.
The 2019 cadetships were recently awarded to three dedicated Leeuwin volunteers – Descia Bailey (19), Guinevere Richards (20) and Ethan Brough (20) – after a competitive process attracting applications from a number of excellent young people from across Western Australia.
The cadetships are a challenging 12-month program which includes practical sea time on board STS Leeuwin II and course attendance at South Metro TAFE, supplemented with skills coaching and mentoring from Leeuwin's crew and staff.
Woodside Port Operations Manager Zubin Bhada congratulated the 2019 Woodside Marine Cadetship recipients Descia, Guinevere and Ethan.
"Our support of the Leeuwin aims to help young people gain seafaring experience whilst also helping the maritime industry to access more skilled participants," he said.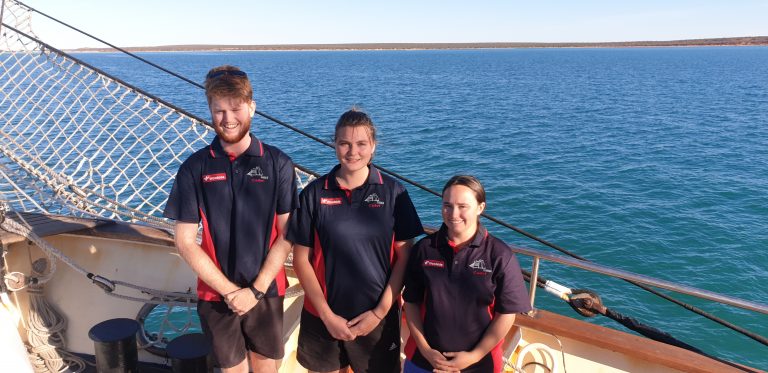 Hear from the Woodside Cadets
We asked the three new Woodside Cadets why the marine cadetship program was important to them.
Descia said: "The cadetship with the Leeuwin has been a great gate opener into the maritime industry. It has given me the opportunity to learn aspects of the ship and other vessels in a healthy and supportive environment."
Ethan said: "The Woodside cadetship provides the perfect introduction into the maritime industry whilst contributing towards the Leeuwin Ocean Adventure Foundation, and hopefully will put me on the right track towards working onboard superyachts around the world."
Guinevere said: "The cadetship is a great opportunity and a stepping stone into the Maritime Industry, as there are many pathways I would like to follow in the future."
For more information on Woodside's partnership with Leeuwin Ocean Adventure, and the sponsorships available, click here.