THE NAVY REFURBISH GENERATORS FOR LEEUWIN LEARNING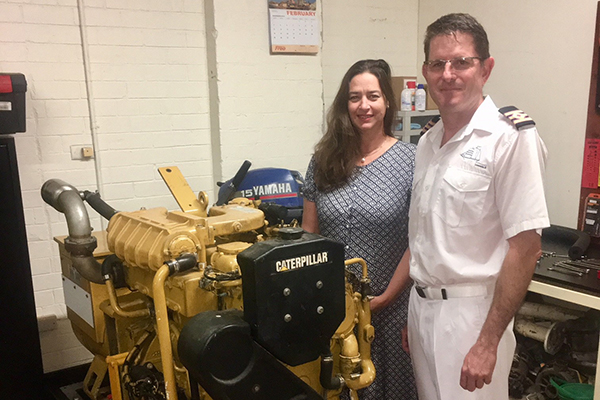 This April, the Navy generously refurbished an old generator for Leeuwin Ocean Adventure recognising the potential for training purposes at the not for profit.
In 2016, two Caterpillar C4.4. diesel generators were replaced with new ones onboard STS Leeuwin II which allowed the old to be utilised for cadet and Work Place Learning (WPL) students.
Operations Manager Alf Green, saw these items as a training opportunity for cadets to gain key skills even if the ship is away.
The Navy removed the generators and worked on separating the alternator from the diesel engine and also mounted them so they could be moved apart, at no charge to Leeuwin Ocean Adventure.
Alf has now set up an onsite classroom which includes the refurbished generator, pumps, motors and other training aids to give cadets and WPL students insight into the inner workings of this machinery.
Alf explains the value and opportunities this classroom brings for volunteers, cadets and WPL students.
"We will be able to engage our volunteers and cadets with a diesel trade to show them how to strip down any engine thus increasing their overall knowledge. This will better prepare them for their TAFE courses and ultimately passing their Department of Transport Oral Boards therefore gaining their Marine qualification 'Marine Engine Driver 2'," he says.
The generator can now be used to conduct planned maintenance such as oil changes, V belt tensioning, tappet clearance adjustments for the cadets and volunteers with an engineering task book.
"This allows me to conduct training independently of the ship and the timing of any planned maintenance," he explains.
Leeuwin has many opportunities for volunteers and cadets to gain hands-on learning for their future pathways.
To find out more contact our Education Manager Michelle Reidy-Crofts (pictured) at education@sailleeuwin.com.
Leeuwin Ocean Adventure is hosting the Inaugural Maritime Industry Ball which will raise funds for the not for profit to continue its youth development opportunities.
The Maritime Industry Ball will be held on 30th June, 2018 at The Esplanade Hotel Fremantle by Rydges. Tables and individual tickets can now be purchased here.
The ball is being held with thanks to TAMS Group, BGC Asphalt and KEE Group, the first corporate partners to jump on board and support this special event. With help and support from The Esplanade Hotel and Worldwide Printing.