Shire of Dandaragan sponsor Leeuwin participant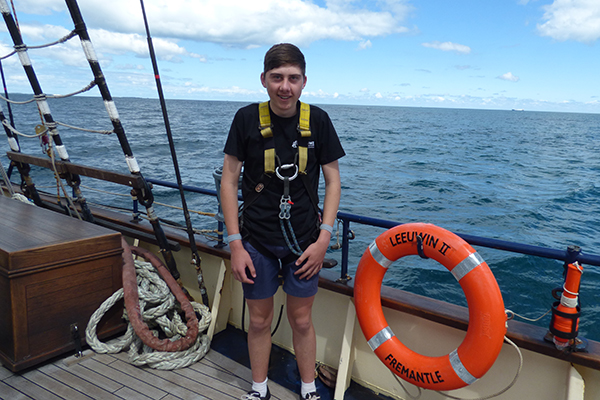 In September, James Wasley (15) from Dandaragan received a full scholarship through the Shire of Dandaragan to board a Leeuwin voyage.
James, who attends WA College of Agriculture in Narrogin, participated in a week-long youth development voyage from 27 September to 3 October and explains what he loved about the experience.
"The voyage enabled me to overcome my fear of heights and become a better person," James said.
"I learnt things that I didn't believe I would be able to do, and learnt how to work better in a team".
The Leeuwin Foundation aim to enrich the lives of young people through adventure, participation and challenge onboard Western Australia's very own tall ship, the STS Leeuwin II.
Tony Nottle, Chief Executive Officer at the Shire of Dandaragan spoke about why they support youth people in the Shire to participate in the Leeuwin Foundation's voyages.
"The Shire of Dandaragan has supported young people from our Community to provide an experience that encourages leadership and may benefit the recipient in years to come. The Leeuwin Adventure is a great vehicle for testing an individuals comfort zones and to get them to "go beyond" what they thought was possible."
The Leeuwin Foundation are funded through a combination of grants, corporate sponsorships and donations by organisations and the general public.
The Shire sponsor one local youth each year and applications open on 1st April each year.
Voyages 1711 and 1712 are next to set sail. Woodside Marine Career Scholarships are now available state-wide. Youth who have a marine or maritime interest (14-25) in your region are eligible for a scholarship worth $1,500, leaving a gap of $750.
The Foundation encourage any interested youth to fill in the form online (disregard the regions stated), and note they are a 1711 and 1712 applicant. Send this direct via email.
The Foundation is an award winning provider of personal development and leadership programs that provides key life skills for young people aged 14-25 that they will take into their studies, careers and community.
Since 1986, the Leeuwin has provided exciting and life-changing programs to more than 40,000 young people across Australia.