Mid West Ports Announce Leeuwin Sponsorship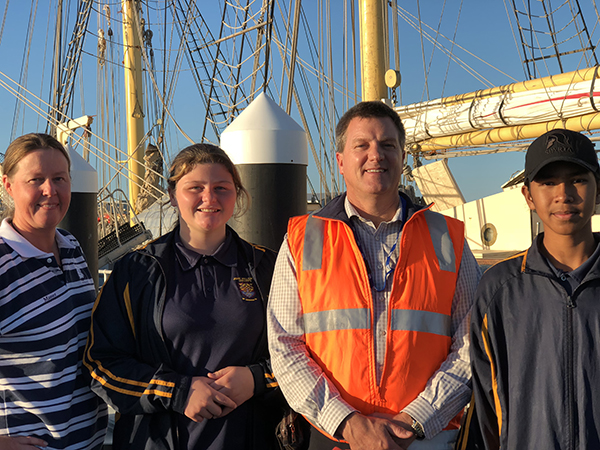 This month, Mid West Ports have generously provided part sponsorship for two young people from the Mid West region for a Leeuwin voyage departing from Geraldton Port.
Cacha Westwood (14) and Ahmad Sain Azman (14) both from John Willcock College boarded the youth development voyage from 15 – 21 June.
John Willcock College generously provided the remaining funding for their students.
The two students will join a week-long experience to increase confidence, courage, self-awareness, and tolerance of others and improve skills to follow their career and life goals.
Leeuwin Ocean Adventure Chief Executive Officer Carol Shannon comments on the newly formed partnership with Mid West Ports.
"We were so happy when told of Mid West Ports willingness to sponsor two Geraldton students from John Willcock College to join the June 2018 voyage from Geraldton to Fremantle," said Ms Shannon.
"The Authority's generosity will provide Cacha and Ahmad with a development opportunity of a lifetime. Already providing outstanding operational support to STS Leeuwin II when she's in port,  Mid West Port youth sponsorship is a real bonus."
The ship visits the Geraldton region each year with the 2019 voyages already announced:
Voyage 1908, 8 – 14 April 2019, Fremantle to Geraldton
Voyage 1909, 18 -24 April 2019, Geraldton to Monkey Mia
Voyage 1910, 2- 9 June 2019, Monkey Mia to Geraldton
Voyage 1911, 15 – 21 June 2019, Geraldton to Fremantle
The Leeuwin aims to enrich the lives of young people through adventure, participation and challenge on board Western Australia's very own tall ship, the STS Leeuwin II and is funded through the sale of voyages, a combination of grants, corporate sponsorships and donations by organisations and the general public.
Since 1986, the Leeuwin has provided exciting and life-changing programs to more than 40,000 young people across Australia.
For more information on the above voyages click here or call (08) 9430 4105.