Maritime Cadets encourage WA youth to apply for Woodside-Leeuwin Cadetship Program for 2022
Every year, Woodside Energy and Leeuwin Ocean Adventure offer young people throughout Western Australia the opportunity to progress their career in the maritime industry through the Woodside Energy – Leeuwin Cadetship Program.
A longstanding sponsor of Leeuwin Ocean Adventure, Woodside Energy has sponsored the popular Cadetship program since 2015. The program runs for 12 months and is one of a kind in Australia. Woodside Energy – Leeuwin Maritime Cadets can expect to spend up to half the year at sea!
Throughout the program, Cadets can complete formal courses of study, including Certificates III in Maritime Operations, Master < 24m and MED2, Certificate of Safety Training and Provide First Aid. They will also be encouraged to complete their task books and will earn invaluable sea time while on board STS Leeuwin II.
As industry-trained professionals, the Leeuwin crew mentor Cadets during the program, offering their knowledge and guidance to ensure that Cadets can excel and achieve their goals. Creating a supportive environment provides cadets with the best possible chance of meeting all the objectives of the course and successfully completing their units of study and assessments.
At the end of the twelve months, Woodside Energy – Leeuwin Cadets are industry-ready, and can take on professional roles in the maritime industry as competent and sought-after seafarers. Leeuwin Ocean Adventure is proud to work with Woodside Energy to offer the best three applicants with this outstanding career development opportunity.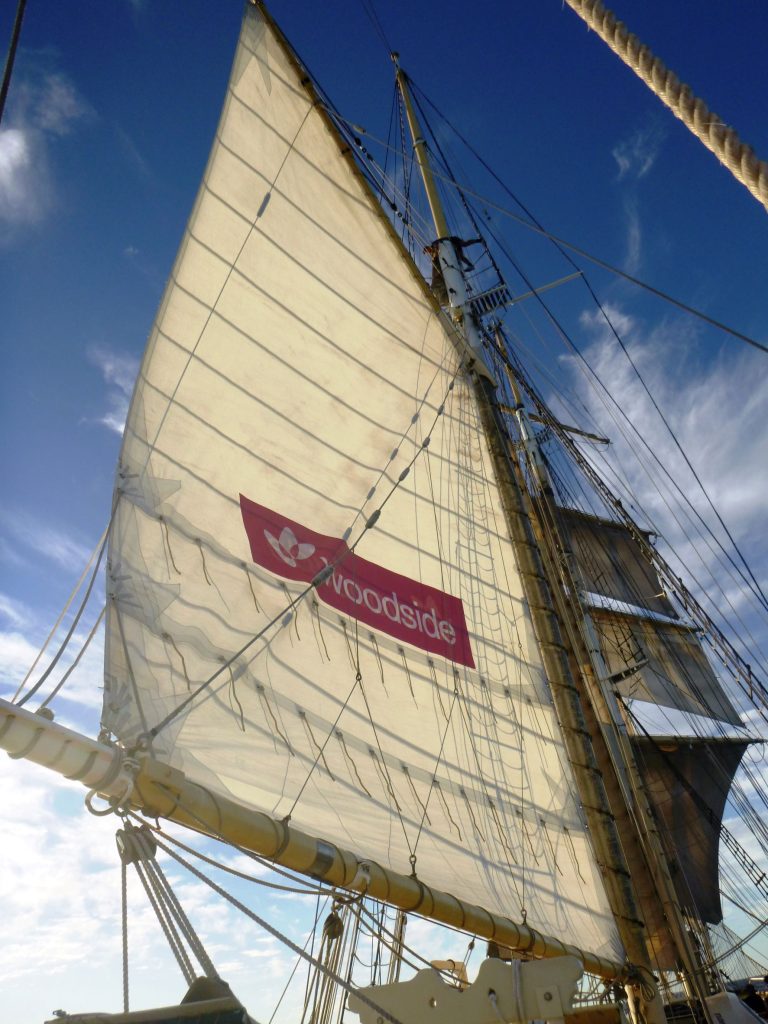 Pictured: STS Leeuwin II 
Eve Pattiselanno and Will Hancock are currently undertaking a Woodside Energy – Leeuwin cadetship, which officially wraps up in February 2022, and have seized the opportunity with both hands.
Will's journey to the Cadetship program was a completely serendipitous one. While visiting family in Perth on a trip from Kalgoorlie, he visited the Maritime Museum in Fremantle. But it was a tall ship moored at the B Berth nearby that caught his attention – STS Leeuwin II. "I thought 'whoa what is that!' and walked over to have a sticky beak", Will said.
Lucky for Will, Leeuwin Ocean Adventure CEO, Carol Shannon, was standing close by and invited him on board for a closer look. Will booked in for a day sail with his Mum the following week and from there, fell in love with the idea of a life at sea on the Leeuwin. A few months later when COVID-19 hit, Will found himself back in Perth and unsure of what to do next, so he signed up to volunteer on the Leeuwin. From there, the rest fell into place. "I found out about the Cadetship through another volunteer, and I decided to throw my hat in the ring!"
Will has thoroughly enjoyed the program and tackled its challenges head on. "It's lot of hours and a lot of learning – you have to be committed and passionate to do it. Having a good support network and a good backing behind you is crucial" he shared.
Will continued to work part time at a Marine Engineering company during the Cadetship and had saved up prior to the cadetship to take off any financial pressure.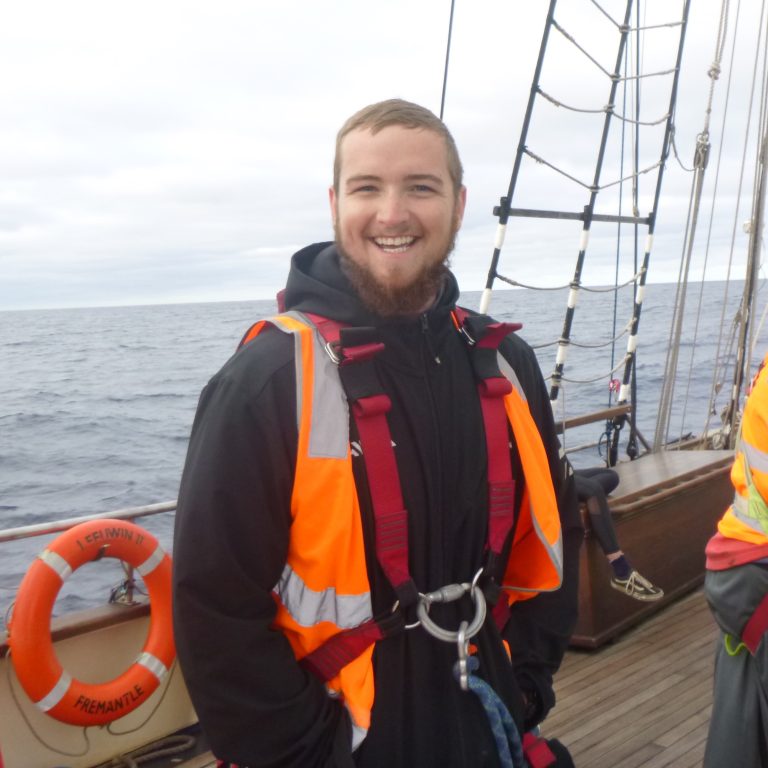 Pictured: Will Hancock, Current Woodside Energy – Leeuwin Cadet, on a voyage from Albany to Fremantle in March 2021
While it may all seem like a matter of being in the right place at the right time, Will recognises the networking opportunities the cadetship has offered, and has learnt that being proactive pays off.
"You are networking throughout the entire Cadetship, through courses, TAFE, and events. We also did work experience with RiverWijs in Dampier, which was great. Just two days ago, I got a phone call from someone I did my MED2 with, who asked if I could help the skipper on his boat, so I went and did some engineering on the boat."
Eve's journey with Leeuwin Ocean Adventure started when she was just 14 years old. She applied for a sponsorship on a whim to come on board a 7-day voyage to Busselton, which was incredibly brave considering she had never been on a boat before. "I didn't really know what I was signing up for, and I turned up and it was pretty intense!" The trip was a success, and Eve came back to the Leeuwin as a volunteer on day sails.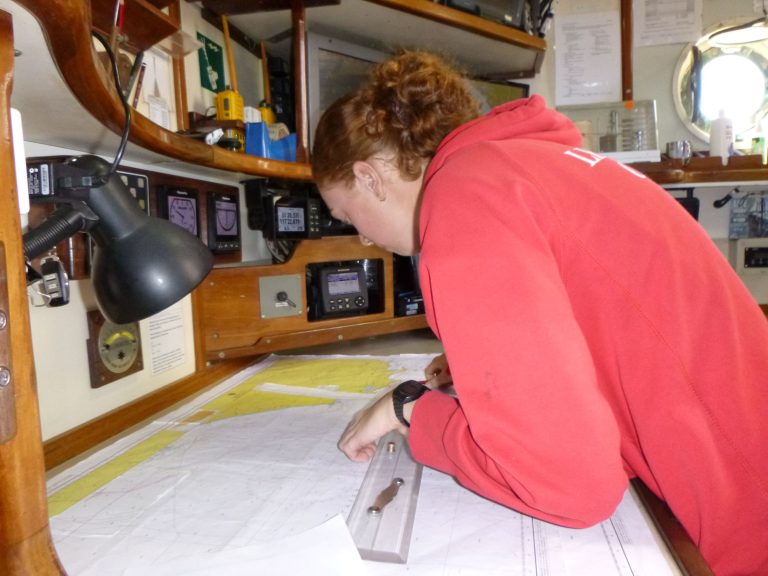 Pictured: Eve Pattiselanno, Current Woodside Energy – Leeuwin Cadet, on a voyage from Albany to Fremantle in March 2021
By age 15, Eve was sailing more regularly and loving her time on the water. Within two years, she decided she wanted to pursue a career in the maritime industry, and left school at age 17 and enrolled in a Certificate II in Maritime Operations (Coxswain Grade 1 Near Coastal) at South Metropolitan TAFE. As the course requires sea time, Eve went back to Leeuwin Ocean Adventure, who encouraged her to apply for the Cadetship program. Eve spent 2020 as a Cadet Associate, watching intently and learning from others while patiently waiting to turn 18 and apply for the Cadetship program herself.
"I've been pretty lucky this year! I got to sail up north on the Leeuwin, which we haven't done in 10 years. I've visited some incredible places, such as Monkey Mia, Exmouth, and Dampier, and worked on tugs with RiverWijs in Dampier, which was pretty special" Eve commented.
"It's been great to just develop and grow as a person, as a watch leader, being able to do cadet jobs such as navigation and engineering on the ship", she added.
Both Will and Eve are excited for what the future holds after the Cadetship and are making plans for their next step in their maritime careers.
"Through the networks I established during the program, I've been pointed in the direction of a smaller boat company, so I went and met them in Perth and am hoping to line up work straight after the cadetship.

Like Will, I want to get an engineering gig! If not, I'm interested in taking a step back and doing an apprenticeship, which would be really beneficial paired up with the ticket", said Eve.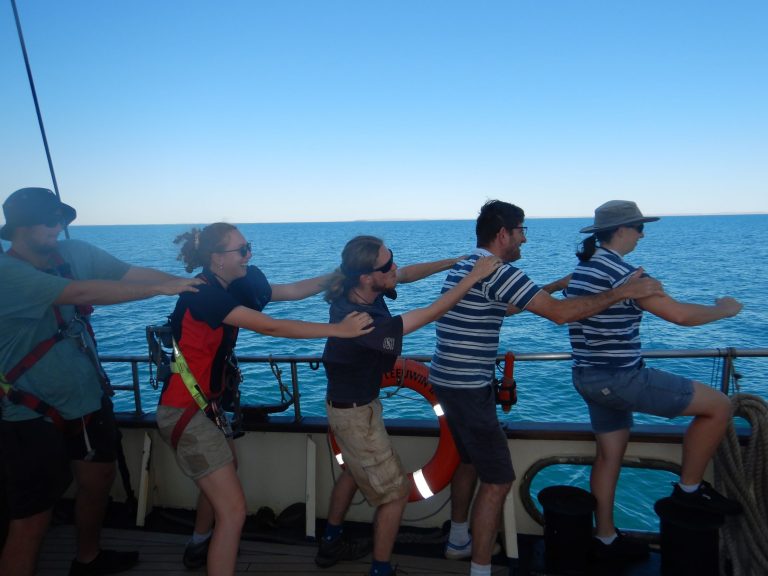 Pictured (L-R): Current Woodside Energy- Leeuwin Cadets, Will Hancock and Eve Pattiselanno with Leeuwin crew members Callum Hindhaugh, Alf Green, and Captain Angela Lewis on a voyage from Monkey Mia to Exmouth in 2021
Both Cadets strongly encourage others to apply for the 2022 Woodside-Leeuwin Cadetship program.
"For anyone who is considering the Cadetship program, one thing I would say is that working for the Leeuwin is very positive and very nurturing. When you start most jobs, there's always pressure and expectations, but you walk into the Leeuwin as a 'clean slate', and they don't expect anything from you. They just want you to support you to grow and succeed", said Will.
"Leeuwin does have a particularly good reputation which is upheld by their training and the people who practice their training", he added.
"You definitely get a lot out of it. To anyone interested, I would say it's a great step because you get your sea time, task books, courses, and experience all in one program and doing that on your own is really difficult. Plus, the Leeuwin crew guide you the whole way through it and you can establish important connections along the way", Eve added.
Many of the Cadetship Alumni attribute the program to their success in the maritime industry and personal development. Lachlan Chaytor, Woodside-Leeuwin Cadet (2018), commented on his own experience and the importance of youth development programs.
"If you want to work in the maritime industry, apply for a marine cadetship with Woodside and the Leeuwin Ocean Adventure Foundation. It will be the best 12 months of your life. I'm excited for the future of the youth of WA with the Leeuwin II, the more young people that can go on the ship and experience tall ship sailing, the more lives that will be positively impacted", he said.
"A Woodside-Leeuwin Cadetship is an amazing way to get your foot in the door to a maritime career. You will get valuable sea time and the knowledge of an experienced crew. I can guarantee that when you leave and start your first job in the industry you will realise that you have learnt more and gained more from the cadetship than you thought" added Mitchell Cullen, Woodside-Leeuwin Cadet (2020).
Guinevere Richards, Woodside-Leeuwin Cadet (2019), similarly highlighted the positive impact the cadetship had on her professional development. "The Leeuwin gave me a solid base to start my marine career, either in the commercial industry or the military. I learnt the skills required to be a good seafarer", she said.
There is no doubt that the Woodside-Leeuwin Cadetship is a rigorous program with outstanding results. Leeuwin Ocean Adventure is passionate about youth development and encourages young people who are interested in a career in the maritime industry to apply for this fantastic opportunity.
Applications for the upcoming Woodside-Leeuwin Cadetship program are open until January 4, 2022. To find out more and apply, visit www.sailleeuwin.com/education/marine-careers