Leeuwin visits the South West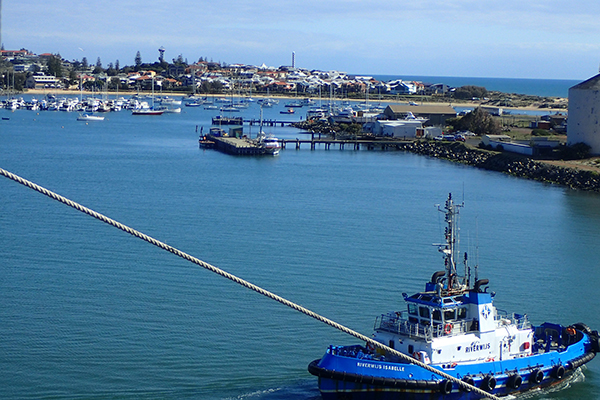 To celebrate the start of the 2017 – 2018 season, two representatives from the Leeuwin Foundation visited several of their sponsors in the South West region to promote the ship, the STS Leeuwin II, and its local activities later in 2017.
The Leeuwin team were on the road from Wednesday 13 – Friday 15 September and visited areas including Bunbury, Donnybrook, Bridgetown, Boyup Brook, Collie and Harvey.
"We were really there to touch base with the local community, and tell them about the upcoming two voyages which are available in December of this year, as well as launch the availability of the tall ship sails in the area," says Rachel Le Moignan, Marketing and Communications Officer.
Philippa Bourke speaks about the different voyages available.
"We are offering two amazing voyages for youth which includes the Career Challenge for tertiary students and 1716 Youth Explorer for secondary students. These week-long voyages enable participants to pursue personal development which are invaluable for their future and we can't wait to see some local youth onboard," says Philippa, Marketing and Scholarship Coordinator.
The Leeuwin Foundation voyages aim to enrich the lives of young people through adventure, participation and challenge and we are funded through a combination of grants, corporate sponsorships and donations by organisations and the general public.
December voyage dates include 8 – 14 December (Career Challenge) and 18 – 24 December (Youth Explorer). To download an application form click here.
In addition, the Foundation are running two 3-hour sails on Saturday 16 December, one from 10am-1pm and another from 3-6pm.
"These are open to the general public, and the Foundation invites everyone; from youth and their families, to grandparents and current or potential supporters down to experience this little snippet of our program," Philippa says.
Tickets start from $40 and are available online.
The Foundation is an award winning provider of personal development and leadership programs that provides key life skills for young people aged 14-25 that they will take into their studies, careers and community.
Since 1986, the Leeuwin has provided exciting and life-changing programs to more than 40,000 young people across Australia.