Leeuwin Team Member elected for Ministerial Youth Advisory Council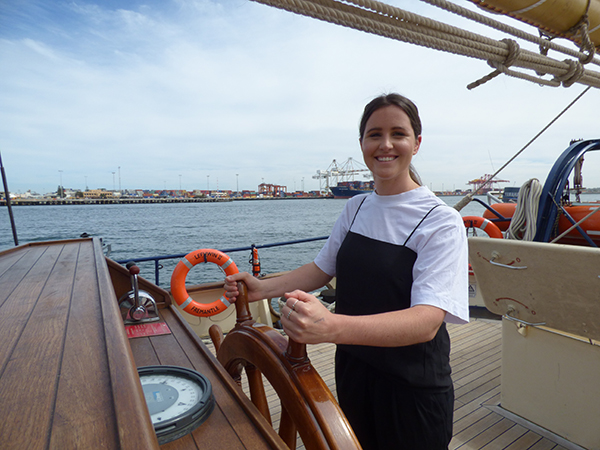 In early November, Fremantle local Philippa Bourke (24) Community Engagement Officer from Leeuwin Ocean Adventure was one of 16 people elected to the Ministerial Youth Advisory Council for Western Australia.
Youth Minister Peter Tinley announced in July that he would set up the council as a way to hear directly from a diverse range of people about their concerns. The new group is made up of people aged 15 to 25 years old.
The council's volunteer members have been appointed for a three year term. The Council includes the 2018 Youth Ambassador, David Castelanelli and Deputy Youth Ambassador, Philippa Bourke.
CEO Carol Shannon speaks of her excitement of one of her staff being appointed on the council.
"We are excited to announce that one of our very own team is part of this excellent initiative by the Minister. We are proud to be able to support Philippa's involvement in the Council and the positive impact the Council will have on youth policy development."
Philippa talks about how she hopes to make a difference to today's youth.
"I'm excited to be a part of the Council and believe it's a great opportunity for young people to shine through in making policy decisions. It's our future and I think this is a great way to take responsibility for it."
"Working at the Leeuwin exposes me to an award winning youth development program, right here in WA. There is such a variety of youths that I get to be involved with and I hope to represent them in this position."
Philippa will be attending meetings as part of the Ministerial Youth Advisory Council and spending her time in a planning group for WA Youth Week from 13 – 22 April.
"I am so honoured to be a representative on the Council and feel like we have such a great opportunity to make a positive change. I am excited for what is to come."
The Leeuwin Ocean Adventure is funded through the sale of voyages, a combination of grants, corporate sponsorships and donations by organisations and the general public.
It is an award winning provider of personal development and leadership programs that provides key life skills for young people aged 14-25 that they will take into their studies, careers and community.
Since 1986, the Leeuwin has provided exciting and life-changing programs to more than 40,000 young people across Australia.