Leeuwin set to celebrate World Diabetes Day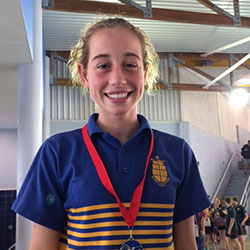 Each year Diabetes WA selects two young people, aged between 14 and 20 years, with type 1 diabetes to take part in the Leeuwin Ocean Adventure Ultimate Challenge.
The challenge is specifically designed for young people with physical, cognitive or emotional limitations, and gives participants the opportunity to experience the thrill of tall ship sailing in a safe, fun and supportive environment. Individuals meet new friends, learn new skills and increase self-confidence on an exciting, inspiring and rewarding five-day adventure.
This year, Diabetes WA is sending Ciara Crockett (14) and Tayla Jones (16) on the adventure of a lifetime. The girls, who were diagnosed with type 1 diabetes in 2013 and 2014 respectively, were selected after submitting an application to the not-for-profit organisation, outlining why they would like to participate in the Challenge.
"I think one of my driving forces has been to prove to everyone that just because I have diabetes, doesn't mean I can't do everything I have always done and more," said Tayla, from Albany.
"In my school, sporting clubs and at cadets, I have never hidden my condition because I think it is really important that people see that diabetes isn't holding me back or going to stop me doing anything I want to do."
Ciara, who lives in Marmion, wrote in her application, "I would like to be a part of the Leeuwin Ultimate Challenge so I can have the opportunity to see how everyone on the voyage works together to achieve the common goal of sailing the ship.
"This trip will be a great opportunity for me to prove to myself and my parents that I can take care of my diabetes while putting myself under physical and emotional pressure."
Something common to both girls' applications is their frustration at being seen to be incapable because of their condition and wanting to prove doubters wrong.
"The misconception that people with type 1 diabetes are unhealthy and have this condition because we didn't look after ourselves is very frustrating and upsets me often," Tayla said. "I have always been very fit and the people around me have seen that type 1 diabetes is not changing that about me."
"I think the Leeuwin trip is obviously an incredible opportunity for someone with diabetes to get out there and do this, but it is equally as important for those on the trip, who are not living with diabetes, to see how we can live a full, healthy life full of adventures, just like they can."
Australia's largest ocean-going sail training tall ship, the STS Leeuwin II, is a working ship so, during the voyage, participants will be part of all ship operations; from steering the ship, setting and furling the sails, navigating and cleaning the ship to climbing the masts, working aloft and standing watch while sailing through the night.
The voyage departs from Fremantle on Monday, 14 November – coincidentally, World Diabetes Day – and travels along the WA coastline.