Leeuwin set to return to Geraldton in 2018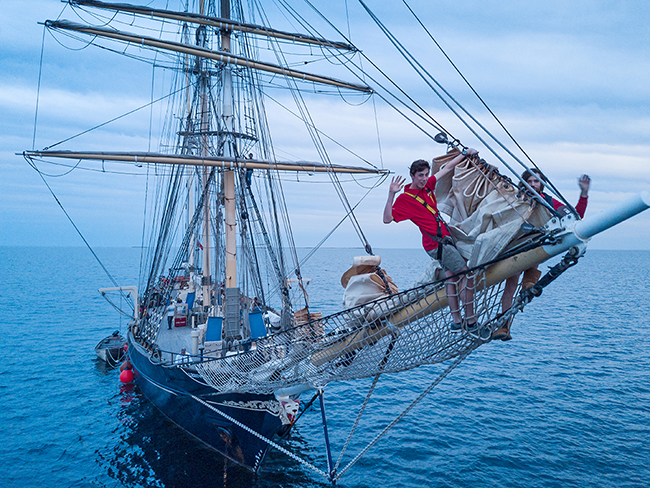 Following the success of two week-long voyages and several alongside ship tours of the STS Leeuwin II in the Geraldton region, Leeuwin CEO Carol Shannon has announced the dates for the return of the ship to the region in 2018.
"My recent three-day trip to Geraldton was amazing. The warmth of our welcome and support from the local community was astounding," said Ms Shannon.
"Despite the disappointment of being unable to do our two day sails due to weather conditions, the local community rallied and came to visit the crew and volunteers for several open ship tours out of Fishing Boat Harbour."
The Leeuwin Foundation aim to enrich the lives of young people through adventure, participation and challenge and are funded through a combination of grants, corporate sponsorships and donations by organisations and the general public.
The ship is set to return to the Geraldton region in April 2018. Two voyages have been announced in the schedule:
Youth Explorer (Aged 14-25)
Voyage 1808: 10 April – 16 April, week-long
Fremantle – Geraldton
Cost: $2,300 per person
Family Voyage (Parents and youth 14+)
Voyage 1809: 21 April – 25 April, 5-days
Geraldton – Monkey Mia
Cost: $1,600 per person
Local Leeuwin Volunteer, Fiona Angelatos from Geraldton Primary School, was the official Program Facilitator on the recent tours and is excited to be involved further in 2018.
"We have lots of ideas for voyages and youth development in the Geraldton region. I am very keen to be more active in supporting the Leeuwin's program development – it's quite a passion," she said.
"We have established a very keen, local core group who will get a Midwest Leeuwin Group up and running. We wish to have a real presence in the Midwest, now that the ship is returning in 2018".
Joanne Horrex, Nagle Catholic College Teacher, also wishes to assist in promoting Leeuwin in the region.
"The ship's visit to Geraldton has sparked a lot of interest, I hope that you do see a rise in the number of Geraldton participants. I've put the word around my school and will talk to returning students after their voyage to further promote participation," Joanne said.
The Foundation have plans to run open ship tours once more in 2018, further details will be released early in the new year.
The Leeuwin Foundation is an award winning provider of personal development and leadership programs that provides key life skills for young people aged 14-25 that they will take into their studies, careers and community.
Since 1986, the Leeuwin has provided exciting and life-changing programs to more than 40,000 young people across Australia.
The voyages aim to challenge and inspire young people to realise their personal potential and make a positive contribution to the wider community.