LEEUWIN AT INTERNATIONAL SCHOOL CONFERENCE
Ju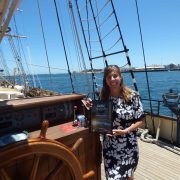 st prior to Christmas 2017, a Leeuwin representative flew to Hong Kong to attend the two-day Asia-Pacific International School Conference (AISC).
Esther Vos-Poiesz, Leeuwin International Relations Officer, was a delegate at the conference where 350 school leaders from Internationals Schools in Asia represented 20+ countries.
Esther attended several presentations, workshops and round table conversations in the mental health and wellbeing stream on 14 and 15 December.
Mental health and wellbeing in education are interdependent. Learning environments that support student mental health focus on their cognitive, emotional and social development – a whole person approach.
"In this rapidly changing world, many students are experiencing stress and anxiety. Schools need to place more emphasis on the social and emotional learning to enhance student's confidence and provide them with life skills," said Esther.
"Experiential learning and character building go hand in hand. By exposing students to activities outside the class room students learn basic life skills such as problem solving, communication and teamwork. All these skills will help them later in life".
"The conference had a really great atmosphere. Networking with a lot of school leaders from several Asian countries who were keen to learn more about our 7-day youth development program was really inspiring" said Esther.
Leeuwin Ocean Adventure prides themselves on an increasing number of overseas participants who come on board WA's very own tall ship, the STS Leeuwin II.
The Leeuwin aims to enrich the lives of young people through adventure, participation and challenge and are funded through a combination of grants, corporate sponsorships and donations by organisations and the general public.
Leeuwin Ocean Adventure is an award winning provider of personal development and leadership programs that provides key life skills for young people aged 14-25 that they will take into their studies, careers and community.
Since 1986, the Leeuwin has provided exciting and life-changing programs to more than 40,000 young people across Australia.