Leeuwin Halogen Winner Heads North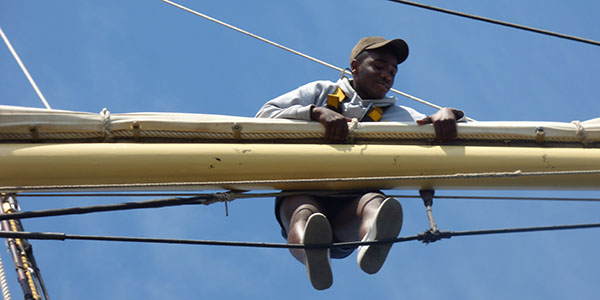 Following the Halogen Australia IMAGINATION Exhibition in March of this year, Nelson Tshongo (17) from Mercy College was drawn as the winner of a week-long voyage onboard the STS Leeuwin II.
Balga resident Nelson took up the once-a-lifetime experience and travelled on the Fremantle to Monkey Mia voyage at the end of April.
Nelson describes what he got out of the experience.
"Going on a voyage with the Leeuwin Ocean Adventure has been a great experience upon which I have been able to build my leadership skills. I count myself very lucky to have had such an experience upon which I've been able to implement on my daily life and to my college, said Nelson.
The Leeuwin Foundation joined forces with Halogen Australia to offer a week-long voyage to one lucky winner who submitted an entry in the draw at the event held on 16 March at the Perth Exhibition Centre.
"I thank Halogen for being one of the main sponsors as it allowed me to get on board. I would definitely come back for another adventure at the Leeuwin in the future."
Halogen CEO Samantha Skinner comments on the partnership with the Leeuwin.
"The mission of Halogen Australia is to inspire a generation to lead themselves and others well. With this in mind, we are so pleased to be able to partner with the Leeuwin Foundation in offering this amazing leadership development opportunity to a lucky student attending our IMAGINATION Youth Leadership Event in Perth", she said.
"Nelson's experiences over the course of his voyage, will no doubt serve to underpin his further growth and development as a leader in his school and community."
Halogen Australia are the premier providers for Leadership Education and inspiration for Australian youth.
Every year the Leeuwin Foundation attend the WA Event in order to inspire and educate the audience on their program.
The Leeuwin Foundation is an award winning provider of personal development and leadership programs that provide key life skills for young people aged 14-25 that they will take into their studies, careers and community.
Since 1986, the Leeuwin has provided exciting and life-changing programs to more than 40,000 young people from across Australia.
The voyages aim to challenge and inspire young people to realise their personal potential and make a positive contribution to the wider community.
The last available voyage for the season, Voyage 1707 Geraldton – Fremantle, runs from 17 – 23 June. Click here to view the application form and secure your berth today!