Leeuwin Committee Welcomes Diversity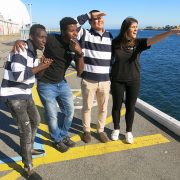 Leeuwin Ocean Adventure welcomes a new seven day voyage, Future Connect, in 2019 to celebrate Western Australia's diversity and encourage inclusiveness in the community.
The voyage will welcome twenty students raised in Western Australia and twenty students living in Western Australia that have come from a culturally and linguistically diverse (CaLD) or refugee background between the ages 16-25 onboard STS Leeuwin II.
A committee has been formed for the voyage which has approached local community organisations, schools and community members to gain support for this voyage sailing from Fremantle.
The Future Connect Committee consists of Ministerial Youth Advisory Council (MYAC) member Philippa Bourke (25), City of Cockburn Youth Advisory Council member David Mugisha (19), 2017 Multicultural Youth Advocacy Network WA (MYANWA) Catalyst Youth Summit delegate Nebyeluel Weldeyesus (20) and Atwell College's Parents and Citizens (P&C) Committee member Brandon Lopez (21).
The committee has already secured support from the Fremantle Multicultural Centre and the Metropolitan Migrant Resource Centre and is working to grow this network.
Committee member David is originally from the Democratic Republic of Congo but moved to Uganda as a refugee and has lived in Australia since 2015.
David talks of the importance of this voyage in helping to break down barriers in WA.
"Future Connect Voyage is important for Western Australia in many ways such as creating a sense of belonging to new Australians. Secondly, it will break the dark side of stereotypes between refugee or CaLD backgrounds and those raised predominantly in Australia. Finally it will create friendship and connection between the participants," says David.
All committee members have participated in a Leeuwin voyage which gave them the opportunity to understand the value and outcomes of sail training.
Nebyeluel first arrived to Australia from Ethiopia in 2016 explains why he is volunteering to ensure the Future Connect Voyage's success.
"I personally found the voyage on STS Leeuwin II made me feel like I am welcome in this country after some racial discrimination and racism I faced in early days of my arrival," says Nebyeluel.
"I strongly believe that this Future Connect voyage is very important for Western Australia to make newly arrived migrants and refugees welcome and create a sense of belonging," says Nebyeluel.
Fremantle Multicultural Centre Settlement Officer Karen Hogg was excited to hear about a voyage that embraced different cultures within WA.
"Future Connect is an exciting new opportunity that will provide a next level experience for participants through bringing together young people from diverse backgrounds, and the inevitable sharing of culture, histories and values," she says.
The forty participants will be involved in all activities onboard the working ship including climbing aloft, taking the helm, participating in night watches and hauling lines whilst building new connections.
The inaugural Future Connect voyage will sail from 12-18 March, 2019.
Expressions of interest for Future Connect are open and can be sent via email or (08) 9430 4105.