LEEUWIN BOSUN EXPERIENCES CREW EXCHANGE ON TENACIOUS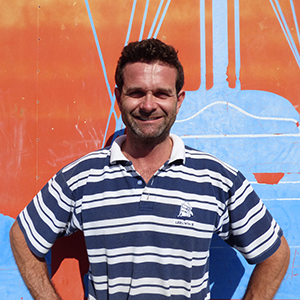 Last month, qualified Bosun Andy Laurie from Leeuwin Ocean Adventure Foundation was able to experience life at sea onboard another tall ship, the SV Tenacious, on a voyage in New Zealand.
The tall ship was designed and built specifically to be fully accessible for persons with disabilities. She was launched on 1st September 2000 from Southampton, England.
Andy found himself onboard the vessel in June through the Woodside Crew Exchange Program.
Leeuwin CEO Carol Shannon speaks about the opportunity available to her crew in the program.
"Through generous funding by Woodside, up to three crew exchanges are offered to outstanding Leeuwin Crew or Volunteer Crew for an experience onboard another vessel each year," said Ms Shannon.
"Crew exchanges are an incredibly powerful way of providing training and career development, broadening individual skill sets and providing opportunities to operate under different operating conditions."
Andy comments on what an amazing experience the exchange was.
"What a great ship to see operate and what a great bunch of people to meet along the way. Wellington to Auckland was great sailing," he said.
Tenacious includes special design features not seen on other ships including wheelchair lifts, a speaking compass and a joystick to enable people with limited dexterity to helm the ship.
"The trainee crew are a mix of physical abilities, including those in wheelchairs. It can be sailed and handled from deck so as to include everyone regardless of their physical abilities," he said.
Andy was part of regular watch rotations, but was also able to spend time with the Tenacious Bosun and view it's more modern rigging technology.
"I found the vessel, being larger than Leeuwin, interesting to observe its manoeuvring characteristics, sail handling and adult program."
The Crew Exchange is part of a larger program sponsored by Woodside to encourage WA youth to join the marine or maritime industry. Voyage scholarships, the Woodside Cadet Program and offshore Career Development are all part of the Leeuwin Marine Career Pathway.
The Leeuwin Foundation is an award winning provider of personal development and leadership programs that provides key life skills for young people aged 14-25 that they will take into their studies, careers and community.
Since 1986, the Leeuwin has provided exciting and life-changing programs to more than 40,000 young people across Australia.
The voyages aim to challenge and inspire young people to realise their personal potential and make a positive contribution to the wider community.