Leeuwin Attends GWN Dowerin Field Days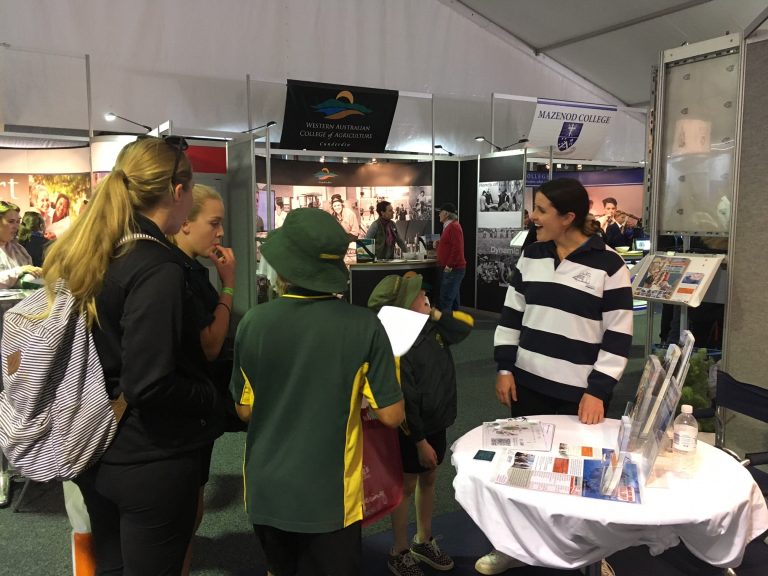 As the days drew close to Spring, two Leeuwin representatives took to the road to attend the two-day GWN Dowerin Field Days.
Philippa Bourke and Rachel Le Moignan, both members of the Leeuwin team, set up stall in the Education Marquee at the Field Day, amongst several of the local and metropolitan schools and boarding schools, to showcase the upcoming season for the Leeuwin.
"We were really there to touch base with the community, talk to parents about the potential of our youth leadership voyages and to encourage younger students to come onboard a day sail this summer," said Rachel.
Philippa agreed the opportunity couldn't be missed.
"It had a really great atmosphere. Not only were we part of the student trail organised by the Dowerin District High School, but we also were able to talk to local supporters and those who had travelled on the Leeuwin years ago".
The Leeuwin Foundation pride themselves on the high number of regional participants who come onboard WA's very own tall ship, the STS Leeuwin II.
"There is something extraordinary about our participants who travel from the regions. Not only do they have a high level of commitment to the voyage, they also fully appreciate the experience in which they have been given," said Rachel.
The Leeuwin Foundation aim to enrich the lives of young people through adventure, participation and challenge and are funded through a combination of grants, corporate sponsorships and donations by organisations and the general public.
"We have a number of shires, clubs and community groups within the Wheatbelt who assist local youth to sail Leeuwin, but we always welcome more," Philippa said.
The Foundation is an award winning provider of personal development and leadership programs that provides key life skills for young people aged 14-25 that they will take into their studies, careers and community.
The upcoming Leeuwin Voyage seasons starts in September, with the first three week-long voyages fully booked. Voyage 1711 (21 – 27 Oct) and 1712 (7 – 13 Nov) are filling fast.
Since 1986, the Leeuwin has provided exciting and life-changing programs to more than 40,000 young people across Australia.