Leeuwin Announce Southern Ports Partnership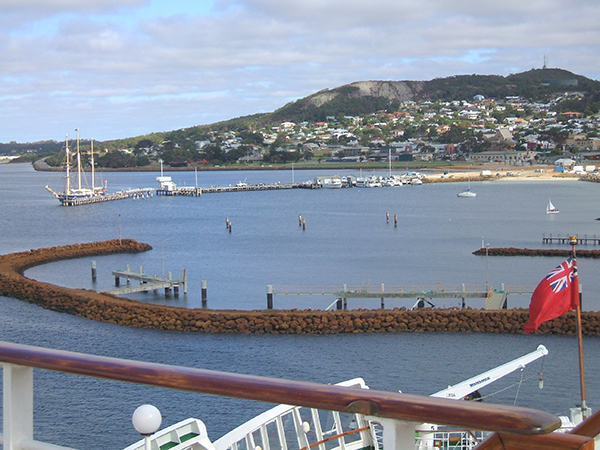 Southern Ports have generously provided part sponsorship for two young people from the Great Southern region for a Leeuwin voyage arriving into, or departing from, Albany Port in January 2019.
Participants will join a week-long experience provided by Leeuwin Ocean Adventure, on its tall ship STS Leeuwin II, an award-winner in youth development programs.
The successful applicants for the Southern Ports sponsorships will increase confidence, courage, self-awareness, and tolerance of others and improve skills to follow their career and life goals.
Southern Ports Chief Executive Nicolas Fertin comments on the newly formed partnership with the Leeuwin.
"Southern Ports is proud to stand side-by-side with the Leeuwin Ocean Adventure to give to Albany students the opportunity to participate in this once-in-a-lifetime experience," said Mr Fertin.
"Southern Ports takes its accountability to the communities in which our staff live and work seriously and we look forward to joining with the Albany community to welcome the return of the STS Leeuwin II for the first time in almost a decade."
The two available voyages are:
Voyage 1901, 4 – 12 Jan 2019, Fremantle to Albany – fare $2,500
Voyage 1902, 17 – 24 Jan 2019, Albany to Fremantle – fare $2,350
Each successful participant will need to fund $250 towards the total cost of their voyage experience.
Applications opened 1 March 2018 and close 30 April 2018.
To apply, applicants must be between 14 – 25 years old at the time of the voyage and reside in the Great Southern region. A short application form can be found here.
The Leeuwin aims to enrich the lives of young people through adventure, participation and challenge on board Western Australia's very own tall ship, the STS Leeuwin II and is funded through the sale of voyages, a combination of grants, corporate sponsorships and donations by organisations and the general public.
Since 1986, the Leeuwin has provided exciting and life-changing programs to more than 40,000 young people across Australia.
For more information on the Southern Spirit voyages click here or call (08) 9430 4105.