Leeuwin Adventure ignites passion for Marine Pilot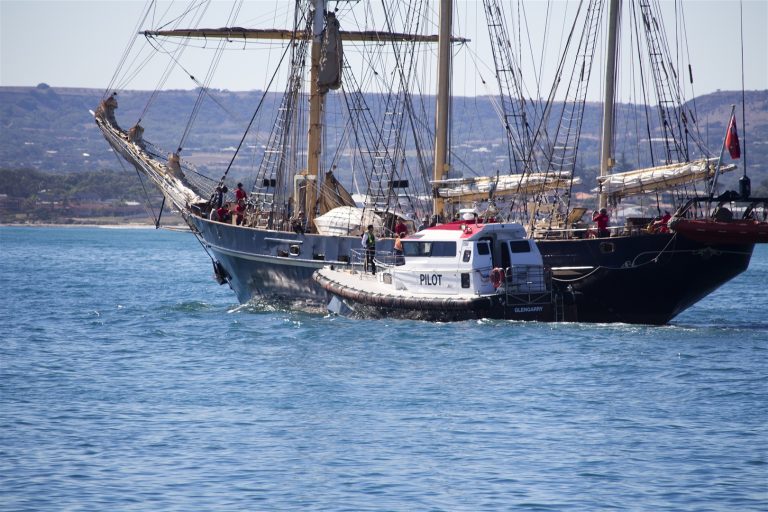 In 1991, now Mid West Marine Pilot Shannon Nicholson, first boarded the STS Leeuwin II on a 5-day voyage which ignited his passion for the maritime world.
"I first joined the Leeuwin in 1991 on a 5-day voyage that my school, Busselton High School, had organised in conjunction with Scotch College," explains Shannon.
"I enjoyed it so much I convinced my parents into sending me on a 10-day voyage. It was the most amazing experience."
Leeuwin Ocean Adventure is an award winning provider of personal development and leadership programs that provide key life skills for young people aged 14-25.
They offer a range of programs for people who are interested in a career in the Marine Industry.
Shannon is an advocate for the program, and encourages local youth to experience a voyage in 2018.
"I feel very blessed to have the introduction to the maritime world through Leeuwin. It started not only a career, but a whole series of adventures and experiences that we would not change for the world," comments Shannon.
"Following the Leeuwin, I set off to work on Fishing and Diving vessels, sail charter yachts in the Whitsundays and worked on Superyachts in the US, Caribbean and Mediterranean.  Years later I secured employment with an offshore company called Tidewater Marine."
"I gained enough sea time and knowledge to successfully obtain my Master Class 1 certificates.  I left Tidewater in 2014 and moved to Geraldton where I began as a trainee Marine Pilot."
"I would absolutely recommend a voyage on the STS Leeuwin II for the youth of today.  As the experience did for myself, it can provide a fantastic career pathway, meet people who become friends forever and the opportunity to fall in love with the ocean."
Now running primarily 7-day voyages, the STS Leeuwin II will sail up and down the Mid-West coast and has four voyages available to Geraldton youth in 2018.
Voyage 1808 10 – 16 April 2018
Fremantle – Geraldton
Cost: $2,300
Voyage 1809 SHORT EXPLORER SCHOOL HOLIDAYS 21 – 25 April 2018
Geraldton – Monkey Mia
Cost: $1,600
Voyage 1810 OPEN ADVENTURE 3 – 10 June 2018
Monkey Mia – Geraldton
Cost: $2,300
Voyage 1811 15 – 21 Jun 2018
Geraldton – Fremantle
Cost: $2,300
Woodside Marine Career scholarships are currently available to cover up to $1,500, leaving $100 (min) to be covered by the recipient or other sponsors for the complete voyage fare.
The scholarship is applicable to students aged 14 – 25, who reside in WA and demonstrate an interest in a maritime or marine career– which includes careers as diverse as: Naval engineering; Naval architecture; Marine engineering; Ocean engineering; Shipwright / Boat builder; Marine electrical; Marine mechanical; Marine tourism; Marine biology; Oceanography; Navy; Fishing industry.
The Leeuwin Ocean Adventure is funded through the sale of voyages, a combination of grants, corporate sponsorships and donations by organisations and the general public.
Since 1986, the Leeuwin has provided exciting and life-changing programs to more than 40,000 young people across Australia.