Kalgoorlie and Esperance Youth Reach Fremantle Shores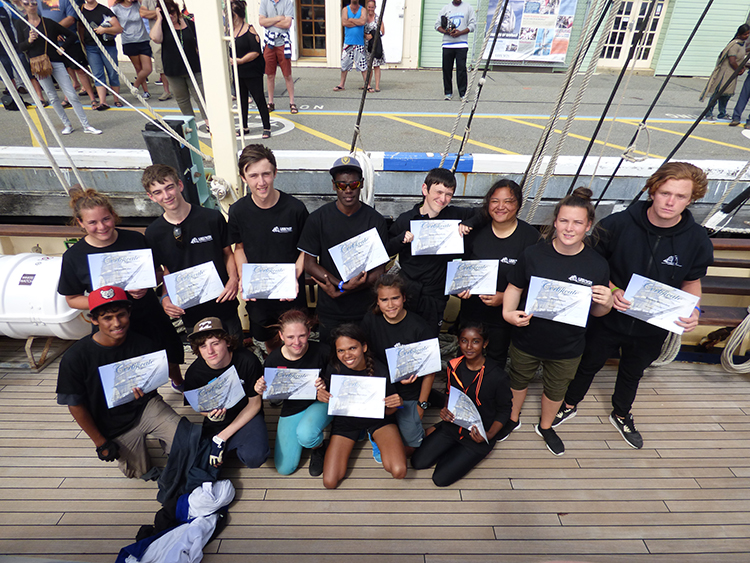 Last month, fourteen students from the Esperance and Kalgoorlie region travelled to Fremantle to join a week-long voyage on the STS Leeuwin II.
In 2016, the Leeuwin Foundation in Fremantle was announced as a successful recipient of the Goldfields-Esperance Development Commission's Community Chest Fund, made possible by the State Government's Royalties for Regions program.
Two students were selected by each school in the region to experience a Leeuwin Youth Development voyage. Onboard the recent 1704 Voyage were fourteen of the twenty-five selected students.
The week saw the participants step outside of their comfort zone in a series of activities including climbing the 33-metre main mast, standing watch at night, taking the helm and steering the ship's course.
Tonyah Herrod-Corey (15) from Kambalda West District High School explains what she was able to take away from the voyage.
"When participating in group activities, I got to strengthen my social skills, became more confident and made new friends. I've learnt so much about myself while onboard," she said.
Jai Honman (15) Norseman District High School thanks the Goldfields-Esperance Development Commission.
"I want to thank you for this opportunity I will never forget. This voyage will remain one of my favourite memories," he commented.
Uriah Daisybell (16) from Coolgardie CAPS said, "I got the chance to assist with some engineering on the ship that will help me with a TAFE course. Thank you for all you have done for me – I had a great time and I got to sleep on a boat."
The final students funded through the Community Chest will board either the 1705 or 1707 voyages prior to July 2017.
The Leeuwin Foundation is an award winning provider of personal development and leadership programs that provides key life skills for young people aged 14-25 that they will take into their studies, careers and community.
Since 1986, the Leeuwin has provided exciting and life-changing programs to more than 40,000 young people across Australia.
The voyages aim to challenge and inspire young people to realise their personal potential and make a positive contribution to the wider community.
The next available Youth Explorer Voyage is the Fremantle to Monkey Mia trip from 20-27 April. To download the application form and secure your place, click here.