Jeremy returns for Ultimate Challenge adventure
Jeremy Hay (23) from Silver Sands is eager to join Leeuwin's Ultimate Challenge voyage for the sixth time this February.
The five-day sailing adventure departing from Fremantle is a truly unique experience for young people with a disability.
Jeremy sailed on his first Ultimate Challenge voyage back in 2013, and has participated in 4 voyages since. Jeremy has also returned to Leeuwin to volunteer on multiple day sails, supported by his Mum Darlene.
"I like being active on the ship. Being on the helm, hauling and coiling the lines, and making sure the ship is kept tidy," Jeremy said.
"I've learnt the names of the different sails and how to set and furl them. I also learnt how to work in a team with my watch group."
"Every time I sail, I build on my knowledge and skills," said Jeremy.
The Ultimate Challenge voyage will host 24 participants with intellectual, physical or sensory challenges and 16 carers/support participants, together with Leeuwin's experienced crew and volunteer team. Everyone on board will actively participate in the operation of the ship, including setting sails, steering, climbing masts and keeping watch during the night.
Jeremy's Mum, Darlene shares his passion for Leeuwin having sailed on the vessel 30 years ago.
"I think it's so important that young people, regardless of their ability or disability, can participate in such a wonderful experience,"
"Leeuwin has had such a positive impact on Jeremy – he's always eager to do more and will regularly talk to friends about his Leeuwin experience."
"Most of all it has promoted his independence. On a voyage, I'm not there to prompt him, but the Leeuwin volunteers and crew are great at supporting Jeremy with whatever needs he has. Even the simple things like ensuring he is allocated to a middle bunk, which is much easier for Jeremy to get in and out of."
Leeuwin Ocean Adventure Chief Executive Officer, Carol Shannon, said the voyage was a special experience which helps young men and women develop confidence and independence.
"The Ultimate Challenge voyage is the only one of its kind in Australia – offering young people with a disability an exciting, unique and rewarding ocean-going experience."
"At Leeuwin Ocean Adventure, we are advocates of inclusivity and developing communication, courage and participation in and by all youth, recognising some voyage participants just need a little more help to achieve their goals."
The Ultimate Challenge voyage departs Fremantle on 4 February, returning Saturday 8 February. The voyage is Australia's only tall ship personal development program for people with a disability.
There are limited places available to join the voyage. For more information and to apply, click here.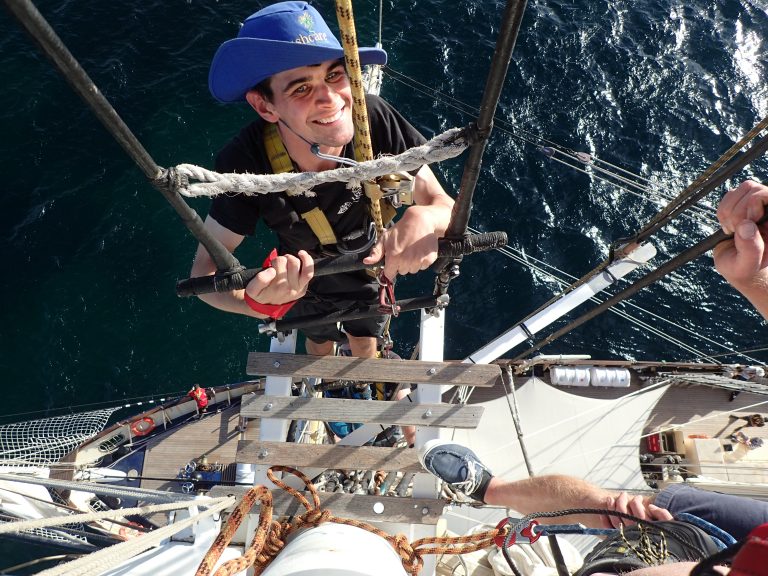 Jeremy will be joining his sixth Ultimate Challenge voyage this February on STS Leeuwin II