IIBT Students enjoy every Leeuwin moment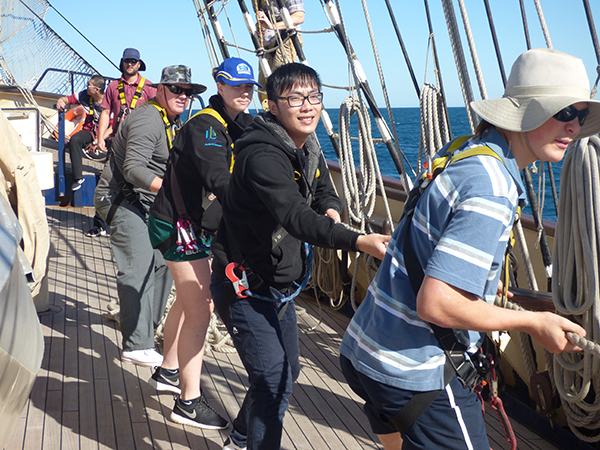 On the last Leeuwin voyage of the season, three students from the International Institute of Business & Technology (IIBT) boarded a week-long voyage on the STS Leeuwin II.
Jianhao Liang (24), Shanyi Yuan (18) and Jun Liu (18) were the first IIBT students to experience a Leeuwin voyage as a result of a new collaboration between the Leeuwin Foundation and IIBT.
Onboard the voyage from Geraldton to Fremantle, Jianhao Liang (24), comments on what an amazing experience it was.
"After the Leeuwin trip, I feel I have learnt a lot of knowledge and (gained) life experience. Moreover, I have met people of different nationalities. I think this will become the most memorable event in my life."
He encourages other young students to take up the opportunity.
"Believe me, you will not only enjoy every moment on the ship, but you will also feel stronger."
Shanyi Yuan (18) talks about how daunting the idea was at first.
"On the bus from Fremantle to Geraldton, I felt a little nervous. After all, this was my first time taking part in such activities."
"When I saw the ship that night, I was excited, this was my first time on a ship."
"Each night we had Night Watch. I found the sky is so beautiful at night, the stars of the sky blinked, and I had never seen the Southern Cross before."
Leeuwin CEO Carol Shannon speaks about the outcomes of the collaboration.
"It was wonderful to see the three young students from IIBT join our Geraldton – Fremantle voyage. Each student got something new and exciting from this experience onboard WA's very own tall ship" said Ms Shannon.
"We are sure this is the start of a long ongoing partnership and we look forward to welcoming some more IIBT students on one of the first voyages in this coming 2017 – 2018 season."
The Leeuwin Foundation aim to enrich the lives of young people through adventure, participation and challenge and are funded through a combination of grants, corporate sponsorships and donations by organisations and the general public.
The Foundation is an award winning provider of personal development and leadership programs that provides key life skills for young people aged 14-25 that they will take into their studies, careers and community.
Since 1986, the Leeuwin has provided exciting and life-changing programs to more than 40,000 young people across Australia.