Final Fare released for March Ultimate Challenge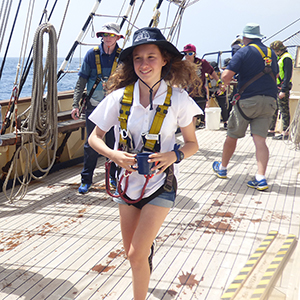 The Leeuwin Foundation is pleased to announce the final fare for the March Ultimate Challenge will be just $975 per participant or carer.
Earlier in 2017, applications opened for our bi-annual Ultimate Challenge, a voyage specifically designed for young people with physical, sensory or intellectual limitations.
Following initial funding from the Disability Services Commission Community Inclusion and Participation Grant, further funding from Harcourt's Foundation and the success of the Leeuwin's Online Auction has enabled participants to board the voyage with a final subsidised payment of just $975.
The voyage will run from 8 – 12 March and we are seeking 24 young people with physical, sensory or intellectual limitations and 16 support trainees (18+) to join this special voyage.
Voyage participants have the opportunity to experience the thrill of tall ship sailing over five days at sea – in a safe, fun and supportive environment. Throughout the voyage new friendships will be made, new skills acquired and new found self-confidence gained.
In order to ensure eager applicants have the opportunity to submit their applications, the closure date has been extended to Sunday 19th February. Applications will be reviewed by the medical committee as they are received and payment will then be taken.
To download the application form and apply for the voyage, click here. Please remember that places are limited on this unique sea-going adventure.