ECU offer different perspective on STS Leeuwin II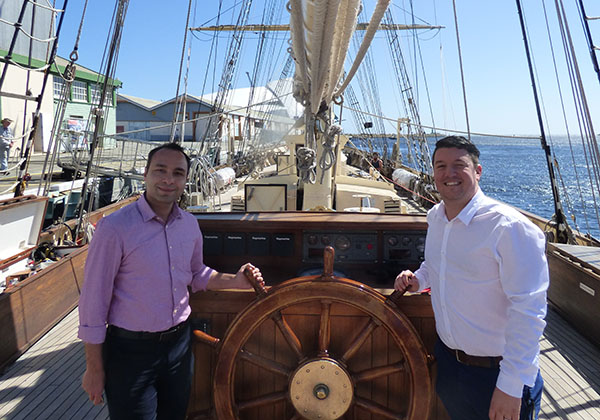 Justin Barnes (31) will join the STS Leeuwin II for its seven day Career Challenge voyage in December and learn some new skills at sea.
In its second year running Edith Cowan University – School of Business and Law have offered a full scholarship for a Master of Business Administration student to take part in the voyage.
The Eglinton local applied as he wanted to develop his soft skills in leadership, teamwork and communication to immerse in his profession and personal life.
"Sometimes the soft skills we have as people seem more important and get us further in life and I would imagine these skills are only going to help progress/challenge my career and personal life," said Justin.
Justin is currently working full time as a Sales and Marketing Manager and majoring in Marketing at Edith Cowan University (ECU).
He is looking forward to taking in the coastline from Fremantle to Bunbury among other things.
"I think I am most looking forward to being outside of my comfort zone and being somewhere different, maybe watching the sunsets in a way that most people do not get to."
Master of Business Administration Director at ECU, Dr Mehran Nejati, was charged with selecting this year's winner.
"After two independent reviews of all applications received, we selected Justin Barnes for this challenge as he represents all of ECU's values and is passionate about this opportunity."
Justin explains what he anticipates for the voyage.
"Overall I feel that this is something that will help me believe more in myself – it will mean that fear can't hold me back. It will mean that I can transform and really understand the importance of teamwork and with these learns I will get to pass on to my team, colleagues and peers," said Justin.
"This Career Challenge is a valuable experience as it encourages students to step out of their comfort zone, obtain better self-awareness, and practice team work, decision making, and people skills in action," said Dr Mehran Nejati.
Throughout the week participants will take part in all activities onboard including joining night watches, climb the 33m main mast, working aloft and taking the helm.
The Career Challenge Voyage will be held from 8-14 December sailing from Fremantle to Bunbury. To book your space, download your application form here.
The Leeuwin Foundation aim to enrich the lives of young people through adventure, participation and challenge and are funded through a combination of grants, corporate sponsorships and donations by organisations and the general public.
The Foundation is an award winning provider of personal development and leadership programs that provides key life skills for young people aged 14-25 that they will take into their studies, careers and community.
Since 1986, the Leeuwin has provided exciting and life-changing programs to more than 40,000 young people across Australia.