Diabetes Type 1 Participant takes to high seas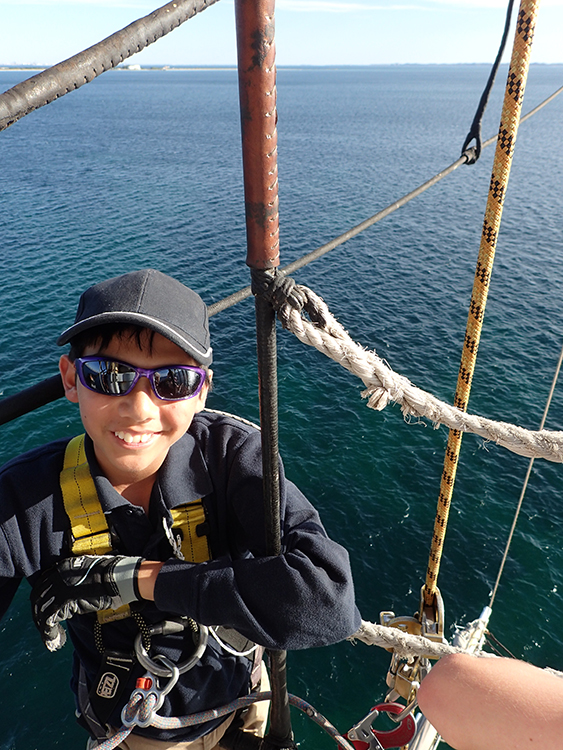 In March of this year, Type 1 diabetic, James Fernihough, boarded the Leeuwin Ultimate Challenge in Fremantle – a week-long voyage specifically catering to youth with physical, sensory or intellectual limitations.
The fourteen year old from Shelley was sponsored by Diabetes WA, to ensure he could experience a Leeuwin Youth Development voyage.
The voyage which ran from 8 – 12 March included 27 young people with limitations and support participants.
Those with Type 1 diabetes are encouraged to go on the Ultimate Challenge as a medical doctor is onboard to help them monitor their insulin levels. A task which is particularly challenging should they experience motion sickness.
Together these participants experienced the thrill of tall ship sailing over five days at sea – in a safe, fun and supportive environment.
Jarnia Davies, Community Relations Coordinator at the Diabetes WA comments on the success of the voyage.
"Diabetes WA is delighted to be able to sponsor type 1 participants for the Leeuwin Ultimate Challenge voyage," she said.
"From feedback that we receive from past participants, we have found that the experience has increased confidence with their condition and imparts valuable skills such as teamwork and leadership while learning to sail."
"Participants have the opportunity to meet and gain new friends, many that also face adverse challenges in life, and helps to build a better appreciation of their own experiences," she said.
Current plans for the next Ultimate Challenge are to be held in February 2018. Should you wish to donate funds towards this cause, please call the office on (08) 9430 4105.
The Leeuwin Foundation is an award winning provider of personal development and leadership programs that provide key life skills for young people aged 14-25 that they will take into their studies, careers and community.
Since 1986, the Leeuwin has provided exciting and life-changing programs to more than 40,000 young people from across Australia.
The voyages aim to challenge and inspire young people to realise their personal potential and make a positive contribution to the wider community.