City of Greater Geraldton sponsors local youth for Leeuwin experience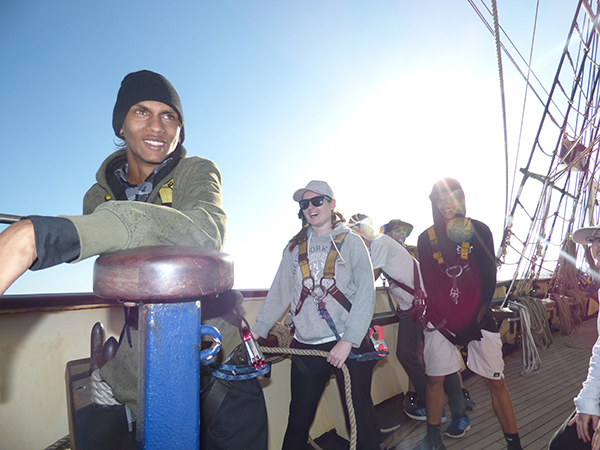 Earlier in November, two students from the Geraldton Flexible Learning Centre, Dominic Nelly (15) and Andrew Nelly (19) along with teacher Jessica McLaren boarded the STS Leeuwin II.
Their places were sponsored by the City of Greater Geraldton for a week-long voyage at sea.
The Leeuwin Ocean Adventure aims to enrich the lives of young people through adventure, participation and challenge.
The local group set out on an adventure of a lifetime, participating in all onboard activities including working aloft, cleaning the deck, participating in night watch and climbing the 33m main mast.
The sponsorship of the three berths came in June 2017, when the City engaged with the Leeuwin team whilst the ship was in Geraldton Port.
Geraldton Flexible Learning Centre teacher and previous Leeuwin volunteer, Jessica McLaren speaks about her time on board.
"Thank you for the generous sponsorship which has provided a once in a lifetime opportunity for Dominic, Andrew and myself," she said.
"The boys rose to the challenge and did not want to get off the ship on the last day!"
"It has re-energised my passion for learning and working with youth."
Mayor Shane Van Styn, City of Greater Geraldton speaks about the partnership with the Leeuwin.
"Our partnership with the Leeuwin Ocean Adventure Foundation has provided an unforgettable experience for both Dominic and Andrew, that they will remember forever," he said.
"The City is committed to supporting youth in the region and have a number of initiatives, which inspire, motivate and nurture participants to be ambassadors for positive change."
"This is the first time we have been able to provide this type of experience to youngsters in the Midwest and I hope we can do it again in the future."
The STS Leeuwin II, WA's own tall ship, will be in Geraldton several times in 2018:
Voyage 1808: Fremantle to Geraldton, 10 – 16 April
Voyage 1809: Geraldton to Monkey Mia, 21 – 25 April SHORT EXPLORER
Voyage 1810: Monkey Mia to Geraldton, 3- 10 June OPEN AGED VOYAGE
Voyage 1811: Geraldton to Fremantle, 15 – 21 June
The Foundation are funded through the sale of voyages, a combination of grants, corporate sponsorships and donations by organisations and the general public.
The Foundation is an award winning provider of personal development and leadership programs that provides key life skills for young people aged 14-25 that they will take into their studies, careers and community.
Since 1986, the Leeuwin has provided exciting and life-changing programs to more than 40,000 young people across Australia.