CBH Group offer six recipients top experience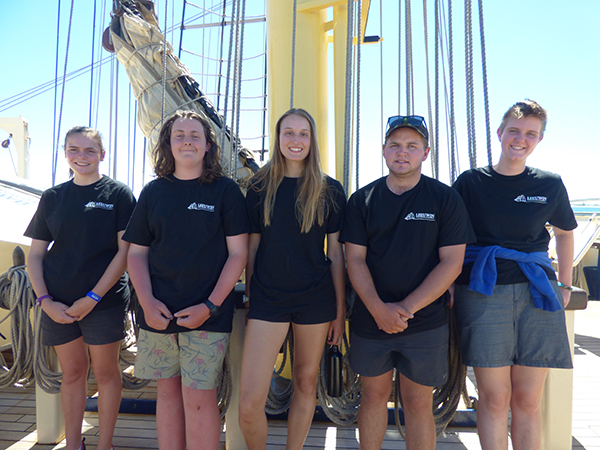 In January, five recipients from each of the CBH Group grain growing zones received a part-scholarship to board a 7-day Leeuwin youth development voyage.
West Beamish (14, Albany), Paige Scolaro (14, Esperance), Emmalee Bialas (17, Kwinana), Jarrod Clarke (20, Wheatbelt) and Jacinta Wheatley (17, Wheatbelt) all boarded the Leeuwin Youth Explorer voyage from 7 – 13 January from Fremantle to Busselton.
The sixth and final recipient Cree Thompson (15, Mid West) will board the Fremantle to Geraldton voyage in April 2018.
The award-winning Leeuwin youth development program assists young people in skills in communication, teamwork and leadership, helping to further their opportunities when entering the workforce and striving for higher goals in the future.
During a voyage participants are involved in all aspects of sailing the ship from climbing aloft, furling the sails, taking the helm and taking part in night watches.
Paige talks about what she gained from the experience.
"The best part was looking at the stars, the food and of course the feeling of getting to the top of the main mast," she said.
"There were lots of challenging parts like trying to stay awake during night watch and hand over day which I really enjoyed."
During the last full day of the voyage it's over to the participants. Together, they nominate a ship's crew from the participants who have shown leadership, team management and capability.
"This voyage has done a lot for me, like trying new things, working with others and ultimately making me a better person."
As Australia's largest co-operative and a leader in the Australian grain industry, CBH Group's core purpose is to create and return value to its growers.
Since 2016, CBH Group have sponsored six regional students annually to experience a week at sea to meet students from other areas of Western Australia and gain skills to return to their community.
Leeuwin in the Regions
In 2018 – 2019, Leeuwin Ocean Adventure is proud its commitment to regional voyages, with week-long experiences available to Monkey Mia, Geraldton, Bunbury, and, after almost ten years, Albany.
Applications for these voyages are now open, and local  youth from each region are invited to apply today at www.sailleeuwin.com or (08) 9430 4105. CBH Group Scholarship applications will open later in 2018.
The Leeuwin aims to enrich the lives of young people through adventure, participation and challenge onboard Western Australia's very own tall ship, the STS Leeuwin II. Leeuwin Ocean Adventure are funded through a combination of grants, corporate sponsorships and donations by organisations and the general public.
It is an award winning provider of personal development and leadership programs that provides key life skills for young people aged 14-25 that they will take into their studies, careers and community.
Since 1986, the Leeuwin has provided exciting and life-changing programs to more than 40,000 young people across Australia.