Bunbury Local Advances through Leeuwin Program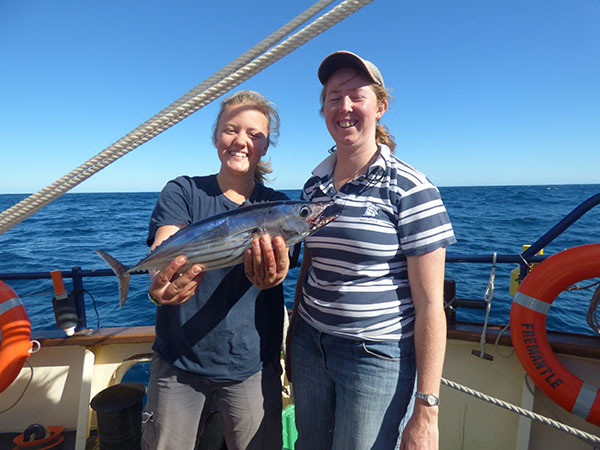 In the latter half of 2016, Elsemieke Marren (19) boarded her first voyage onboard the STS Leeuwin II and after over six months in the Leeuwin program, is set to begin university at Notre Dame next semester.
After growing up in Singapore, her family moved to Bunbury when she was 17. At the age of 18, Elsemieke (Else) was accepted into the SW Young Achievers Program, a program which aims to provide development opportunities for the next generation of inspiring leaders in the South West Region.
As part of the joint initiative, the Rotary Club of Bunbury Leschenault offered funding for participants to experience a week at sea on the STS Leeuwin II, WA's very own tall ship.
Else comments on the first time she boarded a youth development voyage.
"There is no way I could talk about all the experiences I had whilst on the ship, however some of the main highlights were learning how to sail the ship, from setting the sails to taking the helm," she said.
"I learnt how to get along and work with large groups of people, how to meet new people, interact with authority and how important patience is."
Since her first voyage, Else has gone from strength-to-strength and excelled through the Leeuwin program.
After receiving positive reviews for her strong leadership skills and being a quick learner from the crew onboard her first voyage, Else was invited back to volunteer on day sails throughout the summer season.
From March of this year, she completed several week-long voyages as volunteer crew including the Leeuwin disability voyage, the Ultimate Challenge.
"In April, I was rated as Watch Leader, which means I can lead and coordinate a group of 8-10 youth onboard a week-long voyage," said Else.
"I have also been able to volunteer in other capacities at the Leeuwin, including throughout the refit period and on the Career Challenge Committee".
Future and current TAFE and university students are invited to join the Career Challenge voyage running in December to expand their horizons in the workplace. The skills will stay with participants well after they step ashore and into their future career pathways.
"I recommend any Young Achievers to book onboard the Career Challenge this year, it's definitely the voyage I would want to do, if I was to experience my first voyage all over again," she said.
Else plans to study Sports Science at Notre Dame and hopes to assist on Leeuwin voyages in-between studies.
The STS Leeuwin II visits Bunbury twice in the coming few months, once in December and once in January. December dates include 8 – 14 December (Career Challenge) and 18 – 24 December (Youth Explorer). To download an application form click here.
The Leeuwin Foundation aim to enrich the lives of young people through adventure, participation and challenge and are funded through a combination of grants, corporate sponsorships and donations by organisations and the general public.
The Foundation is an award winning provider of personal development and leadership programs that provides key life skills for young people aged 14-25 that they will take into their studies, careers and community.
Since 1986, the Leeuwin has provided exciting and life-changing programs to more than 40,000 young people across Australia.