BROOME YOUTH KICK-START MARINE CAREERS
This month, seven students from Broome Senior High School travelled from Broome to Fremantle to board a week-long Leeuwin youth development voyage.
Each student received a Woodside Marine Career Scholarship earlier in 2017, and raised the gap payment funding to board a voyage on the STS Leeuwin II, WA's very own tall ship.
Following attendance by the Leeuwin team at the Broome Career Week Expo in May, the students were awarded the scholarships after detailing their interest in a marine environment or maritime industry.
Woodside has been a supporter of the Leeuwin Ocean Adventure for many years due to a shared ambition to play a positive role in the lives of young members of their community and to help them fulfil their opportunities and potential.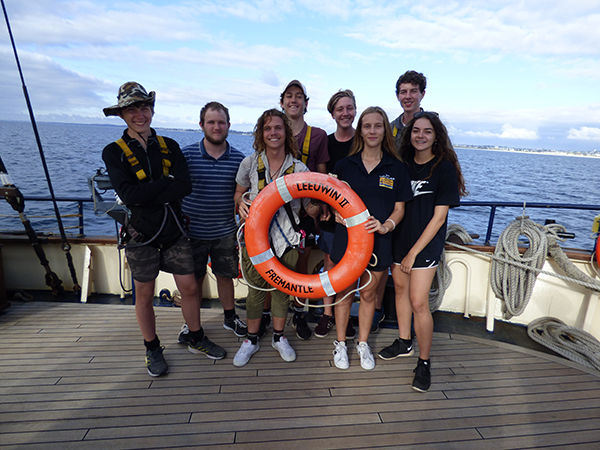 Photo: (L:R) Daniel Coopes, Jacob Hayes (Broome TS Cadets), Jack Hallen, John Davies (behind), Coen Chapman, Lulu Van Leacey, Jed Newman and Hayley Tucker.
Jack Hallen (16) speaks about what he got out of the experience.
"The crew onboard during the voyage were such a great bunch. The crew and participants got along really well and created an awesome experience," he said.
On the last day of the voyage, as a group, the participants nominate those of their peers on board who have demonstrated the skills needed to make up a replacement crew.
"On the last day, I was elected as the First Mate and got to communicate orders from the Captain to the rest of the crew which tested my patience and taught me valuable skills in leadership and communication," said Jack.
A second participant Lucia Van Leacey (15) expressed her appreciation.
"I'm excited to go back home and tell these stories to my family and friends. I would definitely recommend this to everyone and anyone. I just want to say thank you (to Woodside) for the opportunity," she said.
The scholarship covers up to $1,500, leaving $800 to be covered by the applicant or other sponsors for the complete voyage fare.
Early in October, the Leeuwin announced that Woodside scholarship funding was opened up state-wide.
Students need to be aged 14 – 25, reside in WA and demonstrate an interest in a maritime or marine career to be eligible – which includes careers as diverse as: Naval engineering; Naval architecture; Marine engineering; Ocean engineering; Shipwright / Boatbuilder; Marine electrical; Marine mechanical; Marine tourism; Marine biology; Oceanography; Navy; Fishing industry.
The Leeuwin Ocean Adventure is funded through the sale of voyages, a combination of grants, corporate sponsorships and donations by organisations and the general public.
It is an award winning provider of personal development and leadership programs that provides key life skills for young people aged 14-25 that they will take into their studies, careers and community.
Since 1986, the Leeuwin has provided exciting and life-changing programs to more than 40,000 young people across Australia.