Bridgetown Locals Take the Challenge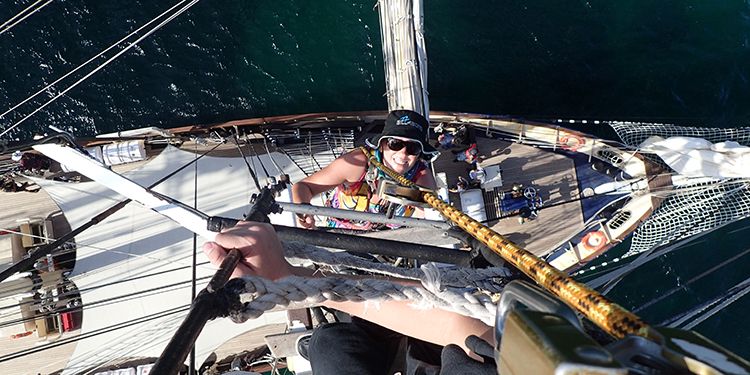 In early March, four Bridgetown locals boarded the STS Leeuwin II in Fremantle for its annual five-day Ultimate Challenge voyage at sea.
Bridgetown High School students Zachary Smith (14), Justin Tilley (14), Brianna Bunter (14) and carer Lee Steinbacher all received sponsorships to embark on this once-in-a-lifetime experience.
Each recipient received a scholarship through the Sir Frank Ledger Trust, with the remainder of the voyage fare being donated by the Bridgetown Rotary Club.
The Ultimate Challenge voyage is specifically designed for youths aged 14-25 years with physical, intellectual or sensory limitations to experience an adventure at sea in a safe and fun environment.
Participants were involved in all aspects of sailing the ship along Perth's coastline, including taking the helm, joining in night watches, climbing aloft and assisting with navigation.
Brianna Bunter from Greenbushes speaks of her time onboard.
"It provided many challenges that were fun and memorable. I met some brilliant people and made new friends as well. I completed almost all the goals I set out to accomplish and it wouldn't have been possible without this scholarship."
Bridgetown carer, Lee Steinbacher says youths were able to accept the challenges they set for themselves.
"There were many memorable moments during the 5-day expedition, with many opportunities for the youth to push their limits so as to achieve their goals," say Lee.
Current plans for the next Ultimate Challenge are to be held in February 2018. Should you wish to donate funds towards this cause, please call the office on (08) 9430 4105.
The Leeuwin Foundation is an award winning provider of personal development and leadership programs that provide key life skills for young people aged 14-25 that they will take into their studies, careers and community.
Since 1986, the Leeuwin has provided exciting and life-changing programs to more than 40,000 young people from across Australia.
The voyages aim to challenge and inspire young people to realise their personal potential and make a positive contribution to the wider community.