Annual MIFC Banquet enables Youth to Set Sail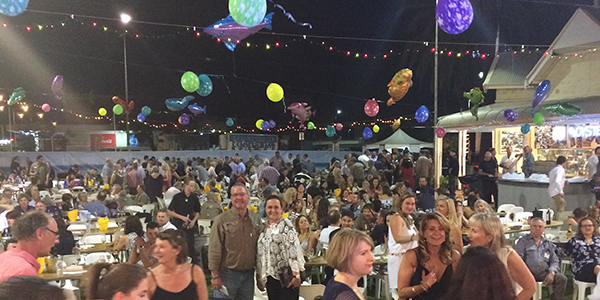 On Saturday 26 November, Leeuwin Foundation CEO Carol Shannon attended the Annual Middle Island Fishing Crew (MIFC) Banquet in Kalgoorlie.
The group formed 68 years ago and members include a number of avid fisherman and Kalgoorlie businessmen.
Their Annual Banquet celebrates the longstanding success of the group and fundraises for five lucky Goldfields youth to go onboard a week-long Leeuwin youth development voyage.
In addition to the five in 2017, the Crew are working together with local community groups to next year fund an additional three trainees.
Leeuwin Foundation CEO Carol Shannon comments on the amazing success of the evening.
"I was so fortunate to be invited to attend the Middle Island Fishing Crew Banquet in the beautiful grounds of the Hannan's Club. The banquet, an annual event raising funds for places on Leeuwin Ocean Adventure voyages for young people from the region, demonstrates the Kalgoorlie community's commitment to invest in the future of young people" said Ms Shannon.
"I was overwhelmed by the generosity of the Kalgoorlie community at this fantastic event, raising enough money to fund a record eight places on Leeuwin this year" she said.
"The Middle Island Fishing Crew has supported young people to join Leeuwin voyages for 30 years. We are honoured to have this fantastic, long term association with MIFC," Ms Shannon concluded.
Ted Forkin, Leeuwin Liaison for the Middle Island Fishing Crew, explains how the annual sponsorship of these five local youth came to fruition.
"Every year for thirty years, the MIFC hold a banquet with 500-600 guests. Each person through the door is asked to donate a certain amount and go into a draw to win one of five door prizes," said Mr Forkin.
"Winning the door prize allows these people the opportunity to nominate a youth they know from the local Goldfields community to receive a fully sponsored voyage on board the Leeuwin."
The Leeuwin Foundation is an award-winning provider of personal development and leadership programs that provides key life skills for young people aged 14-25 that they will take into their studies, careers and community.
This year, the Foundation is marking 30 years of award-winning youth development with a trio of celebrations.