Acknowledging Malgana Culture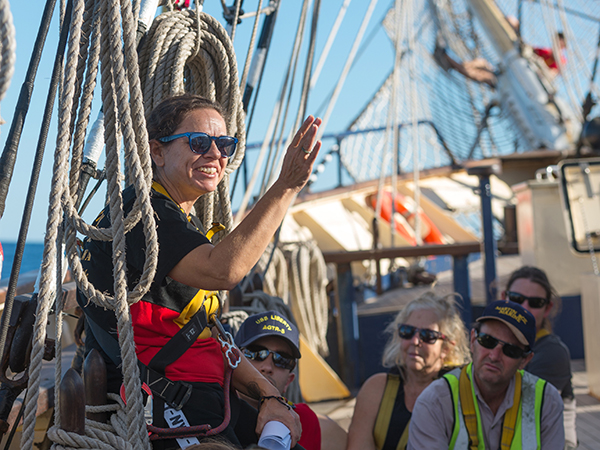 Malgana woman, Bianca McNeair, from Gatharagudu (Shark Bay) has been invited onboard Western Australia's own tall ship STS Leeuwin II as one of two facilitators onboard our Open Adventure voyage later this year.
Leeuwin Ocean Adventure's annual Open Adventure is an eight day voyage for adults to experience the thrill of tall ship sailing and Bianca will hold sessions on her culture and connection to the coastline.
Bianca first joined a Leeuwin voyage in June 2017 and jumped at the opportunity when asked to return in 2018.
"I thoroughly enjoyed the voyage last year. Giving a lecture on Malgana Culture on the deck of the STS Leeuwin II while we sailed past Wirruwana (Dirk Hartog Island) was a huge highlight for me," she says.
"I would like to go on this voyage not only for the opportunity to pass on my traditional knowledge but also to develop myself further into leadership roles and be a role model for my community," she says.
Whilst onboard the 1850s barquentine style ship Bianca will cover several different topics.
"I am very keen to talk about Malgana culture and connection to Wirriya (saltwater) as well as Malgana and other Aboriginal history on the coast," she says.
The Open Adventure invites passengers from across Australia to take part in sailing along Western Australia's pristine coastline from Monkey Mia to Geraldton.
Passengers can get involved in all aspects of the working ship. This includes climbing aloft, taking the helm, hauling lines and taking part in night watches.
There will also be presentations from Mark Gresser who has a Bachelor of Science in Biological Sciences / Conservation and Wildlife Biology. He will discuss the flora and fauna of the United Nations Educational, Scientific and Cultural Organisation (UNESCO) World Heritage Area and Abrolhos Islands to passengers as the ship sails.
Bianca is the Aboriginal Program Co-ordinator at the Northern Agricultural Catchments Council – Natural Resource Management.
She is involved in an array of projects in the area. Her most recent was spending four days tagging Loggerhead Turtles in Shark Bay to help gather important data.
The Open Adventure Voyage will run from 3-10 June sailing from Monkey Mia to Geraldton. Leeuwin Ocean Adventure is currently taking bookings. Simply fill in an application form and pay your deposit today.
Leeuwin Ocean Adventure aims to enrich the lives of young people through adventure, participation and challenge and is funded through a combination of grants, corporate sponsorships and donations by organisations and the general public.
Leeuwin is an award winning provider of personal development and leadership programs providing key life skills for young people aged 14-25 to take into their studies, careers and communities.