2017 Leeuwin Woodside Cadets set to soar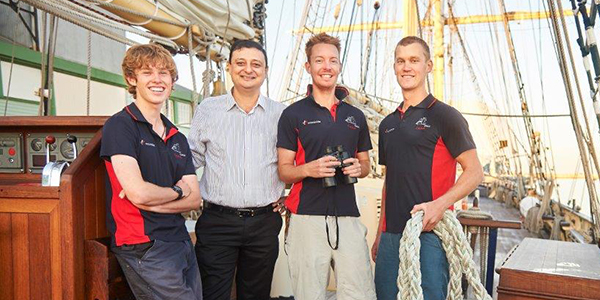 Helping youngsters get seafaring experience and helping the maritime industry access more skilled participants — those are the twin aims behind Woodside's support of young sailors through the Leeuwin Ocean Adventure Foundation.
In addition to the Marine Career Pathway Program, which includes the marine scholarships for 14 – 25 year olds and the crew exchange programs, Woodside sponsors a 12 month cadetship program on the STS Leeuwin II.
Marine assurance manager Zubin Bhada explains that the Woodside involvement with the Leeuwin Foundation is part of the company's commitment to the marine industry.
"Other than its floating production, storage and offtake facilities (FPSOs), Woodside doesn't itself have ships and we're not able to provide a training ground for these youngsters, so this is an opportunity for us to 'bottom feed' the industry," Zubin says.
"It means young sailors can expand their curriculum vitae, and hopefully act as a springboard for other things."
"There's no direct return to the company in the short term; but it will help an industry of which we're a part of for years to come."
"And the company expanding its international footprint is another reason why we need to be capable of filling positions wherever they occur."
Zubin says the cadetships constitute a mix of practical and theoretical experiences.
Callum Hindhaugh, Bradley Moyle and Scott Suffling are the three 2017 Woodside-sponsored cadets.
The trio were selected from the Leeuwin's successful volunteer program, and as part of their commitment to the program, they must complete a number of sailing days and classes at TAFE, in Fremantle.
They have successfully completed the first external studies component and gained their Australian Maritime Safety Authority Certificate of Safety Training.
At the end of the program they will be eligible for certificates in Master (under 24m) vessels, Marine Engine Driver (MED 2), Certificate of Medical Fitness as well as hours of sea service, relevant work experience and on-the-job training.
Captain Sarah Robinson, Master of the STS Leeuwin II, said the cadets were progressing well through their task books and required shipboard learning while accumulating their acquired sea time.
"This was an opportunity that none of these individuals would have been able to afford if it weren't for the generous support of Woodside," she said.
"We have had a lot of interest from other volunteers hoping to take up the cadetship role in future."
Cher Gibellini, corporate affairs adviser communities, says Woodside has provided young people throughout WA with the opportunity for personal and professional growth through Leeuwin youth leadership scholarships since 2005.
"In 2015, the opportunity arose to modify the company's support, to better align it to industry's need to provide more sea time and development opportunities for young people who have an aspiration for a career in the marine environment or maritime industry," Cher says.