Long Lunch Fundraiser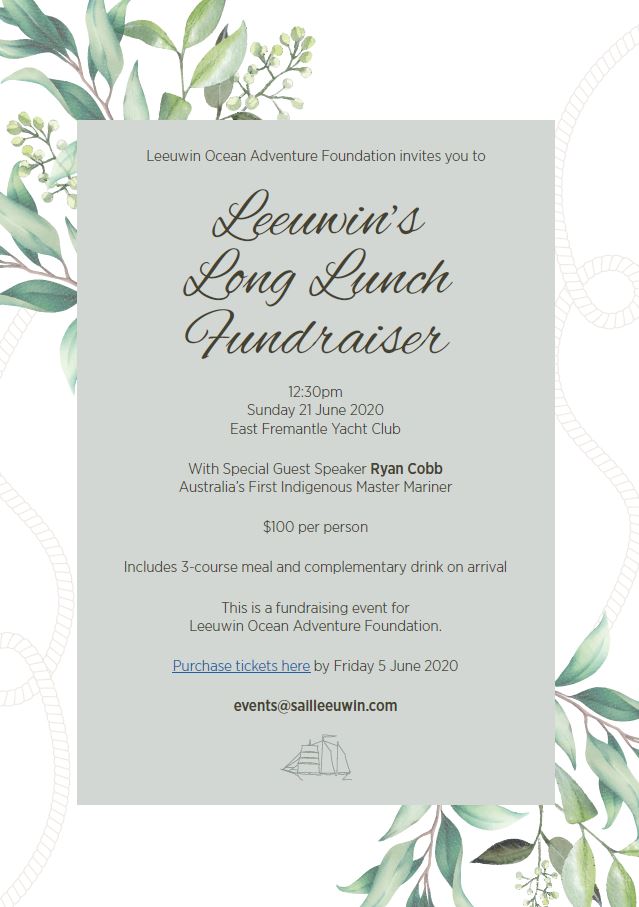 Join us for a Long Lunch with a difference
Leeuwin Ocean Adventure invites you to join us for our Long Lunch Fundraiser on Sunday 21 June 2020.
The event will be held at the beautiful East Fremantle Yacht Club – with spectacular panoramic views of the Swan River.
Hear from Australia's First Indigenous Master Mariner, Ryan Cobb, our special guest speaker for the event. As a Master Mariner, Ryan can command any ship, of any size, in any ocean in the world. Ryan is a Marine Superintendent at Woodside (based in Karratha) and wants to encourage more Indigenous youth from northern WA to pursue careers in the marine industry.
Fundraising activities on the day will include a business card draw, live auction and raffle. Bid big as you could walk away with original art, wine from Plantagenet Wines, tickets to Rottnest Island, a wine tasting experience or a Garmin action camera.
Tickets are $100 per person and includes a delicious 3-course meal and complimentary drink on arrival. Additional drinks are available for purchase at the Yacht Club bar.
To purchase your tickets, click here or give us a call on 9430 4105.
Our Events Manager can also be contacted on events@sailleeuwin.com
If you can't make it, please consider making a donation to Leeuwin Ocean Adventure Foundation. Click here to make a donation.
Donations over $2 to Leeuwin Ocean Adventure Foundation are tax deductible.