Part Sponsorships provide perfect Leeuwin match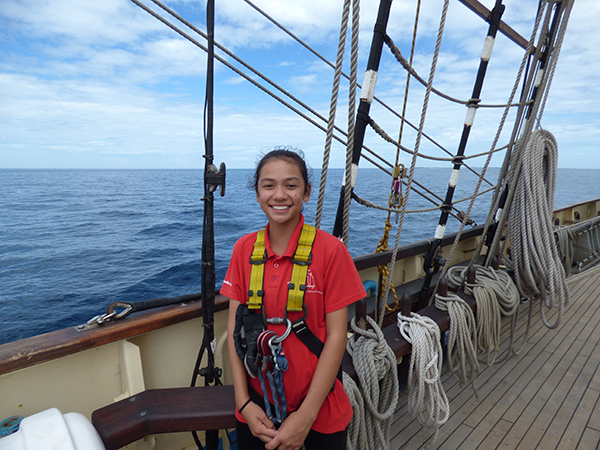 This March, Shelley local Michelle Fernihough (14) found the perfect sponsorship match after she applied and received a Woodside Scholarship for youth (14-25) interested in a career in the marine environment or maritime industry.
The Woodside Marine Career scholarship, valued at $1,500, was then complimented by part funding through the City of Canning's Young People Fly High grant to board a week-long youth development voyage, run by Leeuwin Ocean Adventure.
The Young People Fly High Grant supports activities or competitions relating to sporting, cultural and academic achievement.
Michelle talks about the experience she gained from taking part in the activities onboard STS Leeuwin II.
"This truly is one of the best experiences I have ever had the pleasure to enjoy," she said.
"I really enjoyed meeting so many amazing people and learning things which I otherwise would never had the opportunity to learn."
"I wouldn't have been able to experience all this without the sponsorships, for which I am endlessly grateful."
The Leeuwin aims to enrich the lives of young people through adventure, participation and challenge on board Western Australia's very own tall ship, the STS Leeuwin II. Leeuwin Ocean Adventure is funded through a combination of grants, corporate sponsorships and donations by organisations and the general public.
It is an award winning provider of personal development and leadership programs that provide key life skills for young people aged 14-25 that they will take into their studies, careers and community.
Since 1986, the Leeuwin has provided exciting and life-changing programs to more than 40,000 young people across Australia.
Leeuwin Ocean Adventure encourage youth to approach their local City or Shire to secure funding through programs similar to Young People Fly High.