Middle Island Fishing Crew sponsor youth on Leeuwin voyage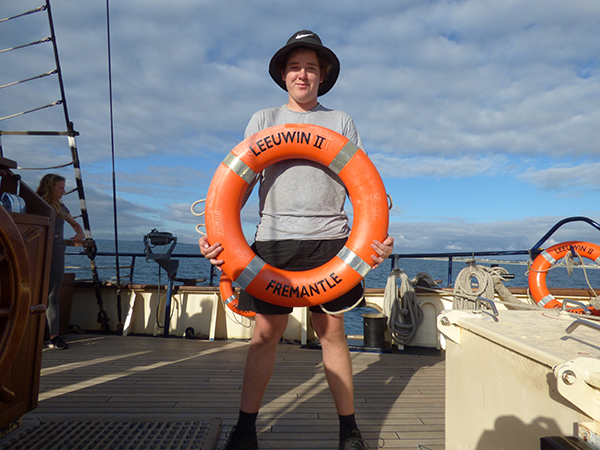 On one of the last Leeuwin voyages of the year, Hamish Gallagher (14) John Paul College student boarded the STS Leeuwin II thanks to full sponsorship from Middle Island Fishing Crew (MIFC).
Hamish was one of 30 young people (aged 14 – 25) who took to the sea for a week-long adventure from 29 November – 5 December 2017.
Middle Island Fishing Crew have assisted local Goldfields youth for over 30 years to experience a Leeuwin voyage, in which youth are part of all onboard activities including setting and furling the sails, taking the helm or climbing the 33m main mast.
The award-winning youth development program assists young people in skills in communication, teamwork and leadership, helping to further their opportunities when entering the workforce and striving for higher goals in the future.
Ted Forkin, Leeuwin Liaison at Middle Island Fishing Crew talks about the ongoing support offered to the Leeuwin by MIFC.
"The MIFC is very pleased to have provided this opportunity for Hamish and we're extremely proud of our long association with the Leeuwin over the past 30 years and sponsoring dozens and dozens of Goldfields young people for a voyage on the STS Leeuwin II," he said.
"At our recent annual banquet, we drew another seven lucky door prize winners to nominate seven Goldfields youth for this fully-sponsored trip of a lifetime!"
As part of the community partnership, the Middle Island Fishing Crew will be chartering the vessel in on 29 December for a sunset sail to show their appreciation to members.
The Leeuwin Ocean Adventure is funded through the sale of voyages, a combination of grants, corporate sponsorships and donations by organisations and the general public.
It is an award winning provider of personal development and leadership programs that provides key life skills for young people aged 14-25 that they will take into their studies, careers and community.
Since 1986, the Leeuwin has provided exciting and life-changing programs to more than 40,000 young people across Australia.
January holiday voyages 1801 and 1802 are filling fast. If you wish to apply, please fill in our application form and book today!