Leeuwin representatives visit Goldfields-Esperance Region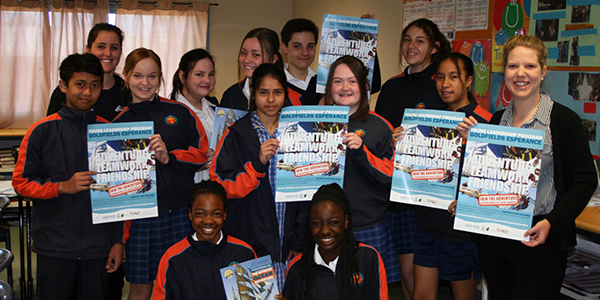 In September of this year, the Leeuwin Foundation in Fremantle was announced as a successful recipient of the Goldfields-Esperance Development Commission's Community Chest Fund, made possible by the State Government's Royalties for Regions program.
In the first stage of the program, two representatives from the Leeuwin visited the Esperance- Goldfields region to allocate scholarships to two students at each local high school.
The Leeuwin Ocean Adventure Foundation was included in the 2016-2017 round of funding for their Leeuwin Young Leadership project assisting young people to develop life-skills and improve confidence.
Chief Executive Officer Carol Shannon talks about what this funding means to the Foundation.
"The Goldfields-Esperance Community Chest funding will provide 25 young people from the region with the amazing opportunity to experience a Leeuwin Youth Explorer Voyage – with a focus on adventure, learning, friendship, leadership and a lot of fun," she said.
Leeuwin School Liaison Rachel Le Moignan commented on the success of the trip.
"We believe the trip was a huge success. It was great to be out in the region, not only to visit each school and complete the initial stage of the Community Chest Project, but also touch base with local Lions, Rotary and Community Supporters," she said.
"We have given each high school the opportunity to allocate the two scholarships as best suited to them, for example, their 2017 high school head boy and girl, a deserving youth to motivate them for the coming year or a highly academic student who would benefit from communication skills taught onboard," Rachel explained.
"We are looking to welcome students onboard from November this year to voyages in early 2017".
The Community Chest Fund provides one-off grants to community, public and not-for-profit organisations to improve and develop infrastructure and services in the region.
The fund supports region-specific priorities that are driven by local communities to assist the development of infrastructure, services and community projects that help build vibrant regions with strong economies.
The Leeuwin Foundation is an award winning provider of personal development and leadership programs that provides key life skills for young people aged 14-25 that they will take into their studies, careers and community.
Since 1986, the Leeuwin has provided exciting and life-changing programs to more than 40,000 young people across Australia.
The voyages aim to challenge and inspire young people to realise their personal potential and make a positive contribution to the wider community.
Proudly supported by: