Gresser's Next Adventure onboard Leeuwin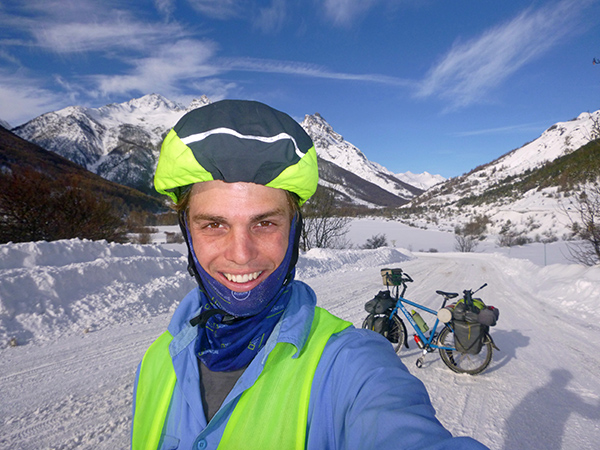 East Perth local, Mark Gresser (32) who has cycled over 29,600 kilometres between Australia and France, is excited for his next experience onboard STS Leeuwin II.
Mr Gresser will join the eight day Open Adventure Voyage for adults who will get the opportunity to sail on Western Australia's own tall ship.
Forty participants will take part in sailing activities and hear presentations by Mr Gresser discussing the flora and fauna in the Shark Bay World Heritage Area.
Mark is excited to sail from Monkey Mia to Geraldton onboard the 1850s style barquentine sail training ship, Leeuwin II.
"I have always been attracted to the image of being on a sailboat in the middle of the ocean with no land in sight. If I lived a few hundred years ago I would undoubtedly have been a ship-based world explorer," said Mark.
"I am keen to join the voyage to be part of an amazing adventure and discover new places I am yet to visit. I am probably most excited about moment I get to stand on deck and feel the wind push the ship forward as I look out to the distant horizon. I am also very excited about the prospect of teaching others how incredibly important the area is for a great variety of unique wildlife."
Mark reflects on the accomplishments of his two and a half year cycling journey which he completed at the end of 2017.
"I hoped the journey would teach about the environmental issues threatening the planet so that I might learn more about how we can all reduce our impact on the natural world. I have come away with a greater appreciation and understanding of the earth as a unified system and an increased desire to make positive changes to the way we treat our natural resources."
He has completed a Bachelor of Science in Biological Sciences / Conservation and Wildlife Biology at Murdoch University.
The Open Adventure will also have presentations from Bianca McNeair, a Malgana woman from Gathrangundi. She will discuss her connection to Wirriya (water) and indigenous history along the coastline.
The Open Adventure Voyage will set sail from 3-10 June from Monkey Mia to Geraldton. Leeuwin Ocean Adventure is currently taking bookings. Download the application form here. 
Leeuwin Ocean Adventure aims to enrich the lives of young people through adventure, participation and challenge and is funded through a combination of grants, corporate sponsorships and donations by organisations and the general public.
Leeuwin is an award winning provider of personal development and leadership programs providing key life skills for young people aged 14-25 to take into their studies, careers and communities.