AngloGold Ashanti enables Kalgoorlie students to sail Leeuwin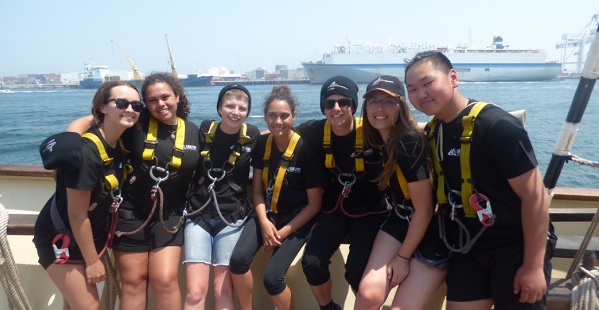 In late November, seven Year 11 students from Eastern Goldfields College travelled to Fremantle to join a week-long Youth Development Voyage on board the STS Leeuwin II.
AngloGold Ashanti, the third largest gold mining company in the world, donated $18,700 to the Leeuwin Foundation for these Kalgoorlie students to join a once-in-a-lifetime experience.
The seven students, aged sixteen and seventeen were selected by their Year 11 Deputy Principal, Pippa Baxter, based on their positive contribution to the school.
This generous donation covered all travel costs to and from Kalgoorlie, voyage fares and Leeuwin sailing apparel including gloves and climbing gear.
"AngloGold Ashanti was delighted to enable the students to join the Leeuwin Youth Development Voyage as part of our broader, long-term support for youth education, health and wellbeing in the Goldfields," said Andrea Maxey, AngloGold Ashanti Australia's VP Corporate Affairs, Community & HR.
Sixteen year old Casey Wood overcame many challenges onboard and explains the key skills she took away from her week-long adventure at sea.
"I had the support and guidance from the crew and other trainees to pull through and discover the strength I never knew I had," says Casey.
"The (AngloGold Ashanti) sponsorship has enabled me to create life long memories for myself and the other students," she says.
The Leeuwin Foundation's CEO Carol Shannon explains the lasting impact this experience has had on each student.
"The excitement on the faces of the seven young folk from Kalgoorlie as they alighted from their long train journey into East Perth station was an absolute delight. And this was just the start of their week-long adventure. Thanks to their full sponsorship through AngloGold Ashanti, these seven young people were provided with an opportunity of a life time, to accept new challenges, build their confidence and make new friends on board the Sail Training Ship Leeuwin. Each was a great contributor to the voyage program and they have indicated, through their feedback, that they got a lot from their experience to take into their futures," says Carol.
The STS Leeuwin II is a working ship and youth on board take part in all activities. Throughout the week this includes furling the sails, taking the helm, navigating the ship's course, taking part in night watches and scrubbing the decks.
All forty youth work together under the guidance of Leeuwin crew and volunteers to sail the ship and improve on teamwork skills.
In 2017, the Leeuwin Foundation's first two voyages will be travelling to Busselton (8-13 Jan) and back again (17-22 Jan). The Leeuwin Foundation in now taking applications for these voyages. Sir Frank Ledger Scholarships are currently available.
The Leeuwin Foundation is an award winning provider of personal development and leadership programs that provides key life skills for young people aged 14-25 that they will take into their studies, careers and community.
Since 1986, the Leeuwin has provided exciting and life-changing programs to more than 40,000 young people across Australia.
The voyages aim to challenge and inspire young people to realise their personal potential and make a positive contribution to the wider community.