Open Adventure
WHEN: 2 - 9 June 2019
DEPARTS: Monkey Mia
ARRIVAL: Geraldton
FARE: $2,350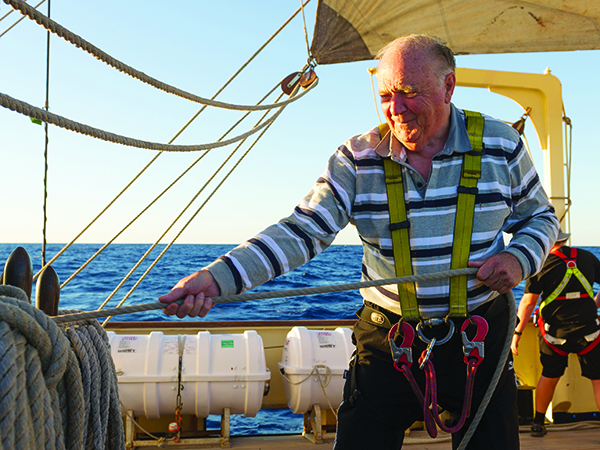 Adults with a sense of adventure – no sailing experience required!
Our Open Adventure voyage is for youth of all ages – for people looking for an amazing sea-going adventure. Sail on Western Australia's own and largest tall ship – the STS Leeuwin II – sailing along some of Western Australia's most spectacular coastline and through its pristine waters.
Your voyage starts in Monkey Mia, Shark Bay – inscribed as a World Heritage Site by the United Nations Educational, Scientific and Cultural Organisation (UNESCO) in 1991 and included on Australia's National Heritage List in May 2007. You will sail south along the infamous Zuytdorp Cliffs towards the equally well known Houtman Abrolhos Islands, a chain of 122 islands and associated coral reefs, to the Midwest port City of Geraldton.
Take time to visit Monkey Mia, the dolphins, Francois Peron National Park, Denham and, of course, at the end of your journey the Maritime Museum and HMAS Sydney Memorial in Geraldton.
We run a working ship, so during the voyage you will be part of hands-on activities, from:
Navigating the ship and taking the helm
Setting and furling the sails
Climbing the masts and working aloft
Standing watch while sailing through the night
2018 Facilitators
Mark Gresser
Mark has completed a Bachelor of Science in Biological Sciences / Conservation and Wildlife Biology. Mark will discuss the local flora and fauna in the World Heritage Listed Area and what is being done to protect it. Mark has worked on the Faure Island Project and recently cycled over 29 600km through 28 countries between Australia and France.
"I am probably most excited about the moment I get to stand on deck and feel the wind push the ship forward as I look out to the distant horizon. I am also very excited about the prospect of teaching others how incredibly important the area is for a great variety of unique wildlife," Mark says.
Bianca McNeair
Bianca is a Malgana woman from Gatharagudu (Shark Bay) who returns to the voyage in 2018 to discuss Malgana culture and connection to Wirriya (saltwater) and Malgana and Aboriginal history on the coast. Bianca has recently been involved in tagging endangered Loggerhead Turtles off Dirk Hartog Island. Click here for the full story.
"Giving a lecture on Malgana Culture on the deck of the Leeuwin while we sailed past Wirruwana (Dirk Hartog Island) was a huge highlight for me," said Bianca.
All participants will be expected to arrive on the night of Saturday 3rd June 2018 in Monkey Mia. They will be transported to the ship and spend the night onboard. The voyage program will officially begin on the morning of Sunday 4th June. Participants will disembark from the voyage on Sunday 10th June in Geraldton.
Leeuwin Bus Expression of Interest *please note: includes additional cost.
Credit: Stewart Allen
Voyage Schedule
FROM OUR PREVIOUS ADVENTURERS!
"I have done a lot of travelling in my life, but sailing on the STS Leeuwin II was special, a great experience and given the opportunity, I would do it again."
- Open Adventure Participant, 2018
"Having completed the Open Adventure from Shark Bay last week I found all volunteers and watch leaders incredibly compentant and pleasant to work with. No commercial cruise ship would have a person of this calibre on board."
- Open Adventure Participant, 2017