Open Adventure
WHEN: 3 - 10 June 2018
DEPARTS: Monkey Mia
ARRIVAL: Geraldton
FARE: $2,300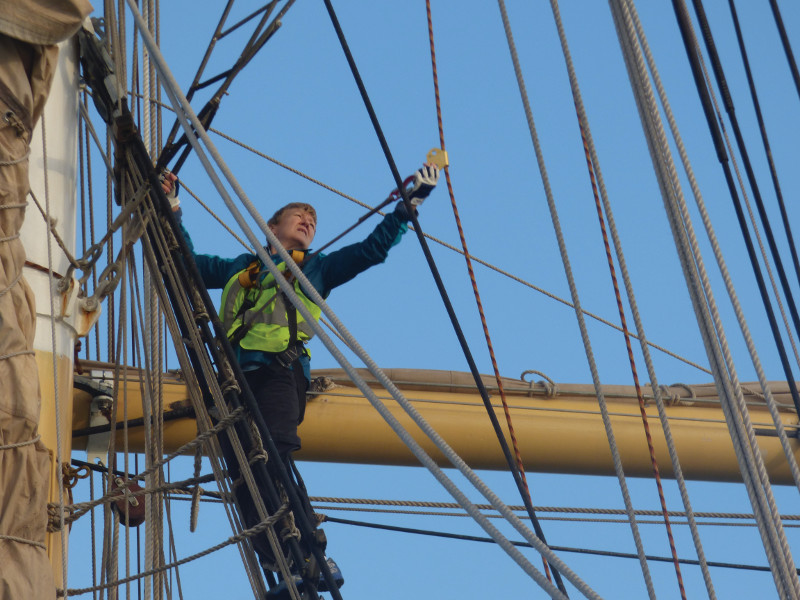 We often have adults asking about sailing opportunities, and this is it!
Our Open Adventure voyage is for youth of all ages – for people looking for an amazing sea-going adventure, on Western Australia's own and largest tall ship – the STS Leeuwin II – sailing along some of Western Australia's most spectacular coastline and through its pristine waters.
Your voyage starts in Monkey Mia, Shark Bay – inscribed as a World Heritage Site by the United Nations Educational, Scientific and Cultural Organisation (UNESCO) in 1991 and included on Australia's National Heritage List in May 2007. You will sail south along the infamous Zuytdorp Cliffs towards the equally well known Houtman Abrolhos Islands, a chain of 122 islands and associated coral reefs, to the Midwest port City of Geraldton.
Take time to visit Monkey Mia, the dolphins, Francois Peron National Park, Denham and, of course, at the end of your journey the Maritime Museum and HMAS Sydney Memorial in Geraldton.
We run a working ship, so during the voyage you will be part of hands-on activities, from:
Navigating the ship and taking the helm
Setting and furling the sails
Climbing the masts and working aloft
Standing watch while sailing through the night
Credit: Stewart Allen
Voyage Schedule
FROM OUR PREVIOUS ADVENTURERS!
"Having completed the Open Adventure from Shark Bay last week I found all volunteers and watch leaders incredibly compentant and pleasant to work with. No commercial cruise ship would have a person of this calibre on board."
- Open Adventure Participant, 2017
"Great Captain, fantastic crew, beautiful ship"
- Open Adventure Participant, 2017