Open Adventure
WHEN: 2 - 9 June 2019
DEPARTS: Monkey Mia
ARRIVAL: Geraldton
FARE: $2,350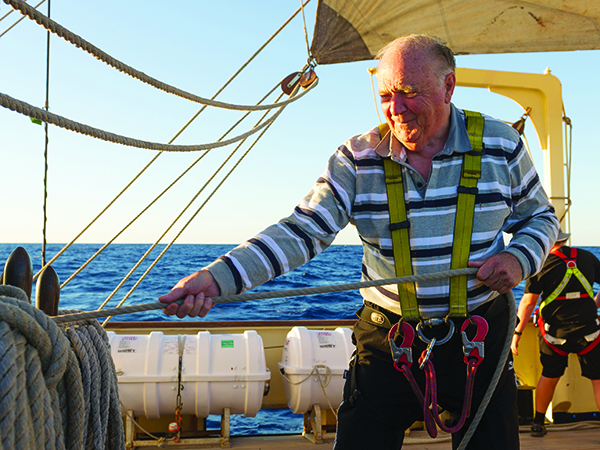 Adventurous and special
18 years old (and over) and looking for a break -we call this: feeling adventurous?
In your twilight years and sailing a tall ship is still on your bucket-list?
Any age looking for these instagram-able moments?
Leeuwin Open Adventure voyage is for you!
no previous experience required!
The voyage
Sail WA's own tall ship along the most spectacular coastline and through pristine waters.
Starting in Monkey Mia, Shark Bay (inscribed as a World Heritage Site by the UNESCO in 1991 and included on Australia's National Heritage List in May 2007).
You will sail south along the infamous Zuytdorp Cliffs towards the equally well known Houtman Abrolhos Islands, a chain of 122 islands and associated coral reefs, to the port of Geraldton.
Wind direction and sea conditions 
guide the week's activities - 
so expect the unexpected!
While on the Coral Coast, you will have the time to visit Monkey Mia and the famous and friendly dolphins, Francois Peron National Park and Denham; and at the end of your journey, visit the Maritime Museum and HMAS Sydney Memorial in Geraldton.
We run a working ship, so during the voyage you will be part of hands-on activities, from:
Navigating the ship and taking the helm
Setting and furling the sails
Climbing the masts and working aloft
Standing watch while sailing through the night
Guest speakers
Nhanganha Gutharraguda, Wula guda nyinda. This is Shark Bay. You come this way.
Shark Bay is the traditional country of three Aboriginal language groups: Malgana, Nhanda and Yingkarta. The Malgana name for Shark Bay is Gutharraguda, which means 'two bays' or 'two waters'.
Bianca McNeair
Bianca is a Malgana woman who joined the Leeuwin voyage in 2018 to discuss traditional culture, connection to Wirriya (saltwater) and more broadly Aboriginal history on the coast. Bianca has recently been involved in tagging endangered Loggerhead Turtles off Dirk Hartog Island. Read about her experience here.
Sharing Malgana Culture on the deck of the Leeuwin while we sailed past Wirruwana [Dirk Hartog Island] was a special moment for me –said Bianca.
Boarding
Boarding of STS Leeuwin II will take place on the evening of 2 June 2019 in Monkey Mia.
You will be transported to the ship and spend the night on-board.
The voyage will begin on the morning of 3 June.
You will disembark in Geraldton on 9 June 2019.
Bus travel to and from the ship is arranged by Leeuwin Ocean Adventure, subject to demand.
How to join?
Simply complete the application form below.
Tips for applying
All voyages require you to complete a form. We will assess it, before confirming that you can join the voyage of your choice.
To facilitate the processing of your sponsorship application, here are few important tips:
Forms are in PDF format and can be filled and send to us without printing them, using the free Acrobat Reader app: download it here.
Make sure to download the application form on your desktop, and open it using Acrobat Reader, before filling it in. Viewing the form in your browser won't allow you to sign it off and submit!
Don't take and email a photo of your application or take the risk that it gets blocked as spam!
Rename your application file adding your name (Example: CBH Application 2018 – Jenny Smith).
Write your name in the subject line of your email when sending your application.
Expect a response from us within 2 weeks. If you don't, please contact us.
Credit: Stewart Allen
Voyage Schedule
2019 Voyages
FROM OUR PREVIOUS ADVENTURERS!
"I have done a lot of travelling in my life, but sailing on the STS Leeuwin II was special, a great experience and given the opportunity, I would do it again."
- Open Adventure Participant, 2018
"Having completed the Open Adventure from Shark Bay last week I found all volunteers and watch leaders incredibly competent and pleasant to work with. No commercial cruise ship would have people of this calibre on board."
- Open Adventure Participant, 2017