Career Challenge
WHEN: 2019 (TBC)
DEPARTS: Fremantle
ARRIVAL: Fremantle
FARE: $2,300
STATUS: Berthed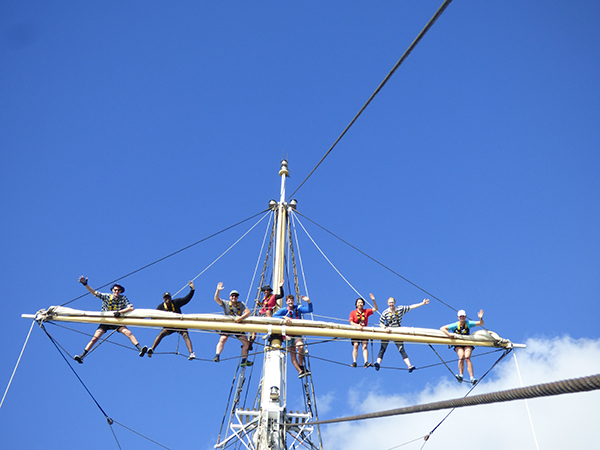 The power of sail training to influence positive change and development in young adults is well researched and documented. The unfamiliar social and physical environment on board Leeuwin provides an ideal opportunity to develop new patterns of thinking and behaviour. The combination of risk and fear will give you goose bumps!
Whether just starting out in the workforce, starting university, changing careers or returning to work post-study, we know young adults benefit from the Leeuwin voyage experience.
The world is a rapidly changing place and some of our young adults may secure jobs in the future that don't even exist yet. Students today need to prepare for an uncertain future.
Leeuwin Ocean Adventure aims to enhance life skills for young adults so as they progress through their career they are confident to apply skills in collaboration, communication, leadership and problem-solving in the workplace.
With a new look at Australian Training Associations, Leeuwin Ocean Adventure invites nominations from these organisation to support and sponsor their young employees and apprentices. In 2018, it's all about a brighter career path!
What participants gain:
Confidence, courage and self-awareness
Qualities of a good team leader and participant
Networks and friendships for their chosen career path
A hands-on tall-ship sailing adventure
An experience sailing from the Northern Gateway of Australia's South West
Post voyage facilitated discussion by Craig Van Waardenburg
Meals, safety equipment and wet weather gear
A once in a lifetime opportunity!
The STS Leeuwin II is a working ship, so during the voyage you will be part of hands-on activities, from:
Navigating the ship and taking the helm
Setting and furling the sails
Climbing the masts and working aloft
Standing watch while sailing through the night
Download an application form and book your place on-board today!
Inquire about next Career Challenge
Voyage Schedule