Spirit of Leeuwin Volunteer Awards Night 2018
Pippi Longstocking, Minnie Mouse and Peter Pan all made an appearance at Leeuwin Ocean Adventure's Spirit of Leeuwin Volunteer Award Night on Friday 14 September.
The 'Movie Magic' awards night, held at the Fremantle Italian Club, saw all of Leeuwin's volunteers come together for an evening of fun, food, recognition and celebration.
Leeuwin Ocean Adventure's Chief Executive Officer, Carol Shannon, explained that volunteers are the back-bone of the organisation.
"Without our volunteers, we wouldn't be able to run our day sails or voyages," she said.
"A ship the size of the STS Leeuwin II requires a lot of man power to sail and to maintain! Our volunteers give up hours of their time to keep her running and we are eternally grateful for their support. Some volunteers have clocked up over 100 days of volunteering for Leeuwin over the past year which is phenomenal."
The Spirit of Leeuwin Volunteer Award Night is an opportunity for Leeuwin to say thank you to their volunteers for their commitment over the 2017/18 sailing year.
Sisters Nikota & Tehya Scholz live in Crossman, but the 1.5 hour journey to Leeuwin (based in Fremantle) doesn't stop them from lending a helping hand!
Tehya (16) participated in her first voyage at the end of 2016, and has since completed 2 training voyages, 15 day sails and a 3-day voyage as a volunteer. Nikota (14) followed in her sister's footsteps, participating in her first voyage at the end of 2017, and has completed 2 training voyages and 4 day sails since as a volunteer. Both sisters have also dedicated hours of their time to volunteer at refits (ship maintenance periods), career expos, and the Leeuwin Maritime Industry Ball.
Mother Nichelle Scholz said Nikota & Tehya feel valued by Leeuwin and look forward to volunteering, not just to help out and learn new skills, but also to catch up with the friends they have made.
"The girls have a lengthy daily commute to school and live in a small town so are limited in opportunities for extra-curricular activities. Volunteering really gives them a sense of greater self-worth as they feel they are able to give back to Leeuwin for the opportunities they have received through the organisation," said Nichelle.
"While volunteering isn't paid, both girls treat it very much as a job and are committed to it. It has provided them with the skills a paid job would, giving them experience in a field that simply isn't possible where we live. What they have learned from Leeuwin will help them in their future careers and further into their lives."
"I am grateful for the opportunities Leeuwin has given our girls – they have made friends outside their immediate network, have been encouraged and emboldened to be their best selves while having a whole lot of fun!"
To find out more about Leeuwin Ocean Adventure volunteering opportunities email volunteer@sailleeuwin.com or visit www.sailleeuwin.com.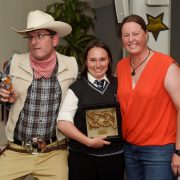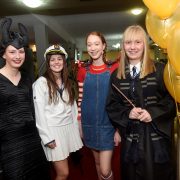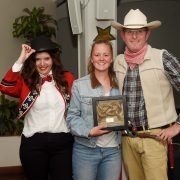 2018 Spirit of Leeuwin Award Winners
Order of Merit (Short Sail)
Winner: Alyssa Hondrade, with 28 short sails completed
Order of Merit (Voyage)
Winner: Descia Bailey & Peter Graham, with 11 voyages each
Captain's Award
Winner: Guinevere Richards
Spirit of Leeuwin Award (Individual)
Winner: Brad Moyle
Spirit of Leeuwin Award (Organisation)
Winner: TAMS
Volunteer All-Rounder Award
Winner: Alyssa Hondrade
Shore Support Award
Winner: Brandon Lopez & Phil Reynolds
Volunteer Recognition
Winner: Alyssa Hondrade & Brandon Lopez
New Watch Leader Award
Winner: Ronny Lardner
Appreciation Award
Winner: Eve Pattiselanno
AUSTA Medallion Youth
Winner: Elsemieke Marren
AUSTA Medallion Open
Winner: Koby Cooke