Virtual Reality Project
Making Virtual Reality a Reality!
Communication, teamwork, initiative, problem solving, resilience, planning and leadership are just some of the values Leeuwin Ocean Adventure Foundation (LOAF) encourages on and off shore.
Leeuwin's Education Manager, Michelle Reidy-Crofts, implemented a work place learning (WPL) program with LOAF in 2018 during the annual refit of the STS Leeuwin ll. From these interactions evolved a collaboration with three Year 11 students from John Curtin College of the Arts (JCCA), Joseph Dunne, Cara Benjamin and Zen Bennett along with a Masters-level student intern from the Faculty of Humanities at Curtin University, Rino Febrian.
The four students worked together to create a Virtual Reality (VR) Project promoting participation in a real adventure on board the ship to develop their soft skills for future employment, as well as create lifelong friendships and memories.
Michelle asked the WPL students if a VR presentation would be of interest to students for expos and Joseph Dunne was keen to create it for his Visual Art Certificate ll project. Natalie Bird (VET Co-ordinator) and Tim Rowberry (Design Teacher Development School STEM Coordinator) from JCCA fully supported the idea with Tim reaching out to Kim Flintoff at Curtin University for further discussion.
Tim, Michelle and Cara met with Curtin University staff Kim Flintoff (Learning Futures Advisor) and Thor Kerr (Master of Arts Coordinator in the School of Media, Creative Arts and Social Inquiry, Curtin University) along with 8 other representatives, at Curtin HIVE (Hub for Immersive Visualisation and eResearch) to seek support.
The outcomes of the meeting on campus saw LOAF joining the Learning Futures Network, and having Curtin University recognise the Youth Explorer Voyage as one of its ACES programs that enable participating students to apply for the Curtin SHAPE Award. A 5 Year agreement for a Master Media student to continue supporting LOAF and JCCA students for 25 days/year with VR projects is now in place.
The Youth Explorer Voyage is also an Endorsed Program with the School Curriculum and Standard Authority, where students may gain academic recognition from years 10-12.
The collaboration with secondary, tertiary and industry to engage student learning and achieve outcomes is an exciting development in educational practice for students to become future ready and for industry to connect with up and coming technology.
We are pleased to present the inaugural Leeuwin Ocean Adventure Foundation VR project. We would like to greatly thank all involved in this collaborative adventure and look forward to developing future projects together.
"The collaborative project that has drawn together Curtin University, Leeuwin Ocean Adventure Foundation, John Curtin College of the Arts, along with other industry and education stakeholders is a brilliant example of what we hoped to achieve when we established the Learning Futures Network.

It brings relevance and meaningful engagement to the learning journeys of students (both school and university) and educators involved. It has had the added value of becoming a unifying activity that has helped bring greater significance to the School Innovation Projects initiative that seeks to recognise and support collaborative engagement between schools, industry, universities and their community participants.

The real value I see is the rich and open-ended opportunities for deep collaborative and student-centered (and student-driven) learning across disciplines. I congratulate everyone involved for demonstrating such high levels of engagement and achievement. I look forward to our ongoing support and involvement with this collaboration" – Kim Flintoff, Learning Futures Advisor, Curtin University.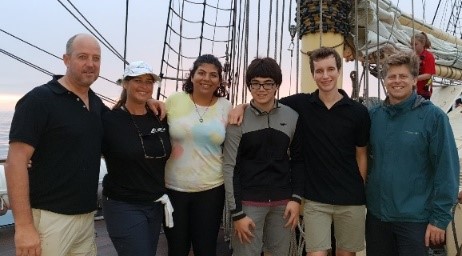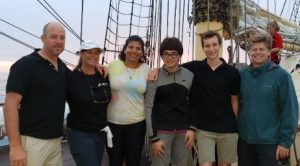 Caption (L-R): Tim Rowberry, Michelle Reidy-Crofts, Cara Benjamin, Zen Bennett, Joseph Dunne, Thor Kerr
View the VR Project in action!
Viewing Instructions:
Computer – click and move the mouse within the video.
Mobile Phone – hold in front of you and use it to look around the ship.
VR accessory – ideal to view the VR experience!
https://www.youtube.com/channel/UCQgK38GWjNmzPEri1NWyGqw?app=desktop
https://acodehubs.com/rfcgARa/curtin-university-kim-flintoff 
Please enjoy exploring the virtual reality of the STS Leeuwin ll and consider Making VR a Reality by booking your adventure on a voyage!